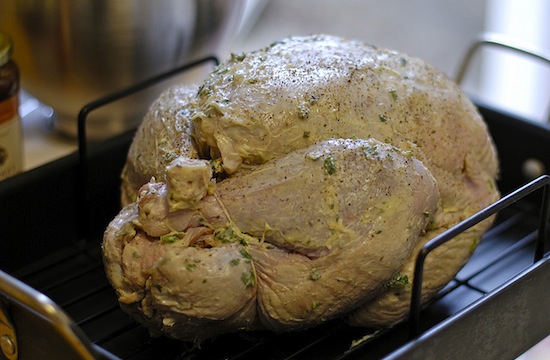 The Huffington Post: Seriously, what will Joey Fatone do if we do run out of Butterball turkeys?? Butterball has told its retailers that orders for turkeys 16 pounds and larger have been cut by 50 percent, which is problematic because a 16-pound turkey is the average size for a family Thanksgiving. But frozen turkeys are apparently OK so far, but the fresh turkeys are in danger.
WQAD.com: But one shop in LeClaire, Iowa, has made bacon-flavored candy canes! WE WANT TO GO TO THERE.
The Huffington Post: Oh, and Joan Jett has been kicked off the Macy's Thanksgiving Parade South Dakota's float (did you know that South Dakota even has a float in the parade? We did not) because of her vegetarian ways. Geez, Joan, what a monstrous crime you've committed! (Kidding.)
Food Republic: John Besh now has a monthly subscription gourmet box, the Besh Box. For $55, you can get handpicked stuff and recipes from Besh. One example of a Besh Box: "a starter kit for making a killer-sounding apple and pear walnut tart, including recipe cards for the dough, the tart and hot spiced wine. The products include a big bag of pecans (from Louisiana-based Inglewood; I knew Besh would rep for his home state), vanilla beans, a pastry cutter, a dough scraper, a cook's towel, GMO-free jalapeño seeds and a fleur de lys tree ornament (another nod to his roots)." Uh, that's cool as shit.
Dallas Morning News: Need some wild game recipes? Tim Love is ON IT. Even though he doesn't have a purely wild game cookbook, we say he should get on it. (No worse than a seal burger, right?)
Have a tip we should know? [email protected]