Last Call: Spike Mendelsohn's New Web Series Is Literally A Drinking Game Documentary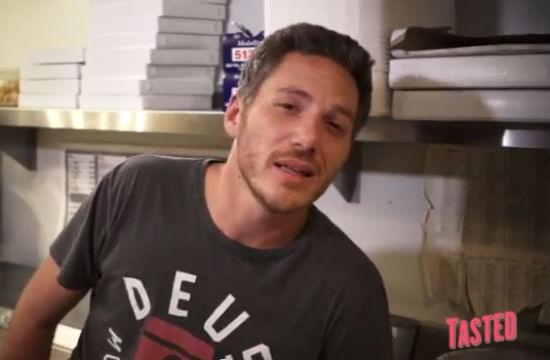 YouTube: Spike Mendelsohn has jumped aboard the web series train. Is it as classy as On The Table? Of course not. Is it as edgy as Fresh Off The Boat? Nope. Is it as crotchety as Hooked Up? Negative. But it is uniquely Spike Mendelsohn: it's called We're Drunk, Let's Eat. You're welcome.
Food & Wine: Food & Wine Magazine named their Top 10 Empire Builders of 2012, and among the chefs on the list were Braiser favorites Bryan "The Quiet One" Voltaggio, Andrew Carmellini, and Paul Qui. Notably absent were overexposed empire sell-outs Rocco DiSpirito, Fabio Viviani, and Marcel Vigneron.
Serious Eats: Marcus Samuelsson has completed the Top Chef Masters-worthy task of opening a fast-casual restaurant in a space that has no kitchen. American Table Cafe and Bar is kitchen-less and doesn't offer any food made to order. Rather, all its dishes are warmed via steam tables, panini presses, and sous-vide water baths. See, stuff like this is why he won.
RFI: You know who would be terrible at Top Chef? These two European chef friends who are altogether too nice to each other. Michelin-starred French chef Thierry Drapeau lost his notebook containing 20 years' worth of recipes while visiting his Russian chef friend Mikhail Kovalev in Yekaterinburg. Kovalev is offering a 10,000-euro reward for the notebook's return, since Drapeau was in town teaching a master class on his invitation.
GrubStreet: In Susan Feniger's week-long food diary for GrubStreet, we learn that, sometimes, she just likes to come home, snuggle up with the cats and dogs and her partner Liz, and watch Rachel Maddow. Related: we wish we lived at Susan Feniger's house.
NYDN: Quiet!…A truffle is in trouble. Yes, like the whales, climate change is endangering French truffles. Where's Al Gore to save them?!
Have a tip we should know? tips@mediaite.com