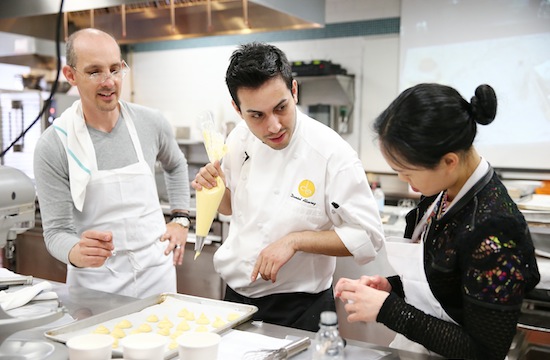 Gothamist: Because why stop at a Cronut? Meet the newest fall pastry creations from Dominique Ansel; a gingerbread pinecone, a sweet potato Mont Blanc mousse, an apple tart tartin… we'll give you a second to wipe the drool off your keyboard.
Roy Choi: The chef is back, and still overwhelmed by the response to his MAD3 video, saying he feels "burdened" by what to do next. "Even through all the haters and lovers of what the speech kicked off, I hope we don't get lost too much in our bleeding hearts or criticisms and remember to actually do something," he writes. "One thing each day can shift paradigms. Word is bond on that." On a lighter note, Choi also shares an excerpt from his book out November 5, L.A. Son.
Los Angeles Times: Yes, this celebrity chef-made dinner with McDonald's menu items is as absurd as it sounds. What was on the menu: tortilla espanola with garlic and saffron aioli, made by Telemundo star James Tahhan, Kung Pao chicken made by Top Chef's Dale Talde, and barbecue chicken made by Food Network star Aaron McCargo Jr. So conflicted, our taste buds: love it? Hate it? Want to vomit?
NPR: Sure, chefs can get a little pudgy at times. So can we blame a chef for stepping up his game at the gym and losing a few pounds? Eliza Barclay looks at how some chefs are dropping the weight, and taking the weight loss challenge to the public.
Life & Style: Because clearly, Mario Batali is qualified to talk about Gwyneth Paltrow's weight.And exercise regimens. And culinary skills! "Last summer, we were at her house in East Hampton, and she made paella in a bikini, and didn't get one speck of oil [on her] or get any little burns because she's a patient chef," Batali said to Life & Style.
Huffington Post: The Colonel Sanders demonic GIF to end all GIFs. You'll never look at KFC the same again.
Have a tip we should know? tips@mediaite.com