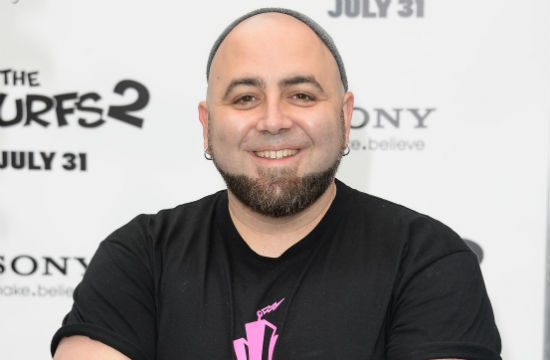 Zagat: The image of Duff Goldman zooming around in a pizza delivery car is super, super amusing. Said the Ace of Cakes star to Zagat on his days at Sandwich Pizza in Sandwich, Mass.: "People would call the pizza place and complain, 'There's a maniac driving your truck!!' And whoever would answer the phone would say, 'Oh, we are so sorry. We will fire that guy as soon as he gets here.' Yet I'd get back to the pizza place and they would say, 'Man, you had like six people call today! It was great!' and then there would be high fives all around."
Huffington Post: Appropriate, because it's National Coffee Day (alternately known as Every Day of Your Life). Julia Louis-Dreyfus and her (staged by Jimmy Kimmel) "meltdown" at a barista who can't get her oder right is proof of why she wins every award at everything. You go, Elaine Benes.
Wall Street Journal: More deets about the kid contestants on MasterChef Junior, who are still predictably adorable, and the rise of the kiddie chef as a whole. More families are attending cooking classes together, with kids even as young as preschool learning how to make paella, which prompted FOX to create a cooking show that's family-friendly. "We have a feel-good show," said Vivi Zigler, president of Shine 360 & Digital behind MasterChef and MasterChef Junior to the WSJ.
VICE: So excited for Top Chef New Orleans that you can't wait to just drink. all. the. booze? Enter the colorful world of daiquiris and to-go cups in the Big Easy. Can you conquer Snowballs next, VICE? Top Chef?
TMZ: Jon Taffer from Bar Rescue gives his two cents on sending girls a drink at the bar: "It depends on what they look like." This is why girls don't accept those drinks.
Politico: Ann Romney, wife to failed presidential candidate Mitt Romney, debuts her first cookbook next week, The Romney Family Table. What do we learn about the Romney eating habits? Pancakes make just about anything right, including losing the presidency; the Romneys made pancakes to mourn the 2012 election. (Although another DC insider website notes Romney relied on plenty of other junk food during that mourning period, too.) Ann Romney, the next Martha Stewart?
Have a tip we should know? tips@mediaite.com