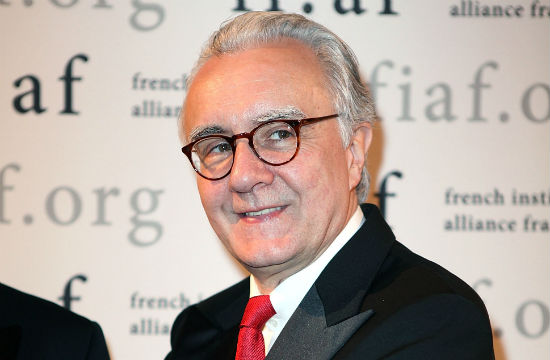 AFP: At a summit of very fancy chefs, Alain Ducasse rallied his fellow Frenchmen to restore the reputation of French cuisine, and stop all those damned English-speaking media outlets from slandering it: "We cannot continue to let media in the English-speaking world say 'France is not what it was' in terms of cuisine," he declared. We mean, it's not like we can say "French cuisine is only fit for the highest gods of Olympus and can never be tasted of by human mortals." But that's the haps.
Eater: Delicious, healthy cockroaches are a part of the Nordic Food Lab's complete breakfast. Really, once you get past the "living bug" factor, cockroaches aren't so different from American breakfast cereal: they're really crunchy, they're covered in chemicals, and they'll survive nuclear blasts. (Maybe cockroaches will come with cool toys included one day.)
Slate: "Paleolithic diets" suck. No, really, science (in the form of evolutionary biologist Marlene Zuk) says so, calling them "paleofantasies." In fact, he says our ancestors, "may have eaten more starch and carbohydrates than we had realized. They also ate different things in different parts of the world." In short: pastries rule, raw veggies suck, let's deep fry everything. (A very scientific conclusion.)
Grub Street New York: The uber-trendy Bushwick spot Roberta's has been catching mad flack lately for trying to hire unpaid farmhands to man the rooftop garden where they grow their chicory. Grubstreet had the restaurant's back, basically saying that it's a cheeky, funky little place where Clintons like to hang out and waitresses sometimes get naked and "interns" get to "volunteer" to be a part of that vibe. So basically, it's like getting a job at MTV. You should pay THEM for a chance to be near so much coolness.
Bon Appetit: Julia Louis-Dreyfus, she's just like us! The Veep star loves bacon, and can barely make it through a recipe. On home-cooking, she says: "The problem I have with cooking is that it takes time. Twenty-five minutes into it I think, 'What have I gotten myself into? I could've had almond butter on a rice cake and called it dinner.'" Okay, she's not like us at all. Almond butter is a torture device, everyone knows that.
Have a tip we should know? tips@mediaite.com