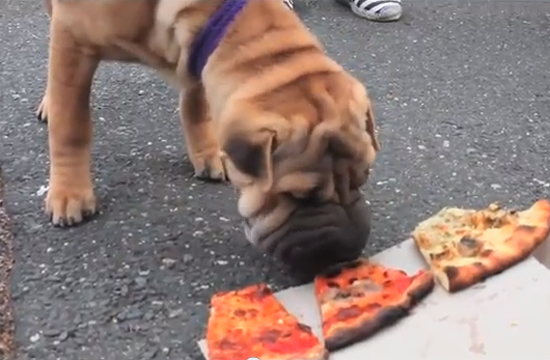 Serious Eats: Here's a smooshy widdle bulldawg eating a little bebeh pizza. Why, pray tell, would Serious Eats run an article about a smooshy widdle bulldawg eating a little bebeh pizza? Who cares? It's the cutest. Happy Friday.
CollegeHumor: Yesterday, a Washington prankster ordered the most expensive Starbucks beverage possible, coming to a total of nearly $50. The CollegeHumor folks took it one step further and ordered the most expensive salad possible. "Expensive," in this case, doesn't mean fancy so much as it means "full of way too many things."
The Hollywood Reporter: There is going to be a New York City location of the amazing Los Angeles pizza restaurant Mozza by acclaimed chef Nancy Silverton! But it's going to be inside of the JFK International Airport. It's like  Silverton played a practical joke on all of us.
NYDN: A judge has deemed some evidence in the "Cannibal Cop" trials as inadmissible, ruling that an image of a goat being slaughtered, as well as gruesome chats with an alleged co-conspirator who claimed he'd eaten a 5-year-old girl, would likely "disgust and sicken the jury." Wasn't that, we don't know, the entire point of why he was arrested in the first place?
NOLA.com: Dozens of celebrity chefs, led by Rick Moonen, have signed a letter urging Congress to enforce catch share policies, which limit fishermen's catches to a quota in order to perserve fish populations. What they will not advocate: catch share policies for the dozens of STDs spread during the last Mardi Gras season. Heyo!
The Independent: Hey, man, wanna hear the dope new trend? Chefs are really into smoking…all of their food…with wood smoke.  Jah, smoked pizza.
Have a tip we should know? tips@mediaite.com