Last Call: Hangover Cures From Whatever Country You Might Wake Up In Tomorrow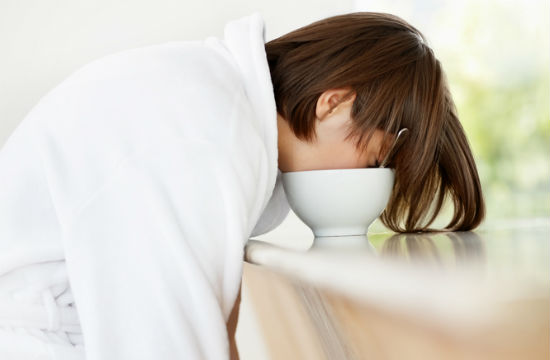 FoodBeast: It's Friday night. That means, tomorrow morning, there's a decent chance you'll be hungover. This friendly infographic illustrates what the hell you should do, if you happen to be in Japan (miso soup with raw egg and umeboshi), Korea (a coagulated ox-blood and cabbage stew) or Ireland where they basically throw down on all the same brunch favorites we have stateside. Consider it your where-not-to-binge-drink travel guide. (Russia, pickle juice).
Grubstreet: You know that Louis C.K. is a phenomenal comic, an okay dad, and, if you've seen his standup, a terrible lover. Now, we can add to that list: pretty decent home cook. During a Reddit chat, he got to talking about what he whips up for the kiddos, and he taught us all how to make chicken. "I love baking chickens. We do that a lot. lots of lemon garlic and olive oil, salt, paprika, pepper. Just tons of all that and cook that fucker at 450 for an hour then turn it down."
Eater: Hooold up, Lidia Bastianich. Right after we unleashed our official list of cheaper-than-Gwyneth-Paltrow's-Diet celebrity chef food products, you go and plaster your face on a line of "home-style meals" to be sold at Whole Foods? Well, damn.
Zagat: Pretty much undoing all of our hard work, and Amanda Cohen's, Eva Longoria has made her steakhouse, SHE By Morton's, girl-friendly, with such slap-in-the-brassiere cliched concepts as: "smaller portion sizes for women, fashion shows, inviting decor and a mirror on the back of the dessert menus (for reapplying one's lipstick)." Ugh. Groan.
IBN Live: Fighting valiantly to stay relevant, Tom Cruise donned an apron an learned how to make dumplings on a recent junket to Tai Pei. (We are not aware that he's in a movie. So who cares what he was there to promote). We're not sure how that will help him stay relevant, but hey, way to go Tom, you adorable little celebrity dumpling.
New York Daily News: Let's all feel better about our ramen addictions by reading the tale of British woman Georgi Readman, who eats nothing but instant noodles and hates the textures of fruits and vegetables. Because of this, Readman is "malnourished and has the health of an 80-year old." Oh, and she's 18. Do you feel any better, Ivan Orkin?
Have a tip we should know? tips@mediaite.com