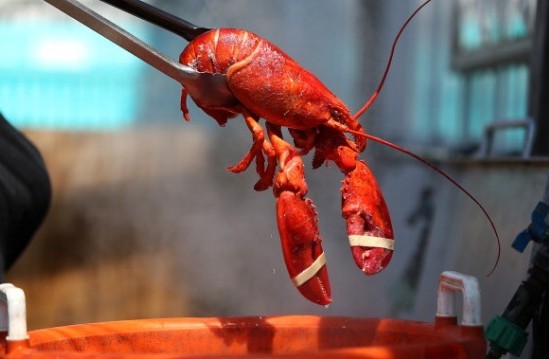 …or at least until Summer 2013: The Global Warming-ing. Until then, take advantage of the sputtering, final days of summer by enjoying these lobster recipes from your favorite people, the Serious Eats folks and Gwyneth Paltrow.
NYT Diners' Journal: Be still our hearts! Ludo Lefebvre is bringing his famous pop-up "LudoBites" to New York City for one night only! Alas, it is only one night to pull off an elaborate heist where you could kidnap Ludo and keep him in Manhattan as your boyfriend forever  experience his incredible cuisine. Make the best of that time.
Eater Chicago: To celebrate the launch of his newest book about the Bouchon Bakery, Thomas Keller will soon do a joint dinner with local star Chris Pandel at his restaurant The Bristol. Does Pandel feel any pressure about cooking alongside America's most revered chef? "No," he says. "I'm looking forward to learning from him. I've never really met him before. I'd like to hear his critique on some of the food." (Though if you're that close to him, you should see if there's a tiny rat pulling on his hair.)
Guyism: Michael Symon loves his Knob Creek Whiskey. In fact, here's a bunch of Knob Creek Whiskey tips about how to use Knob Creek Whiskey when preparing meat. How many Knob Creek Whiskey-marinated pork chops does a man have to eat in order to get drunk off of Knob Creek Whiskey?  Be sure to drink your Knob Creek Whiskey!
Association of Food Journalists: Today, the professional association announced the winners of the 2012 AFJ Awards during their annual conference in DC. We congratulate our colleagues across the country for their excellence in food writing, and have begun thinking about our submissions for next year's competition. We will likely submit this. 
Have a tip we should know? tips@mediaite.com