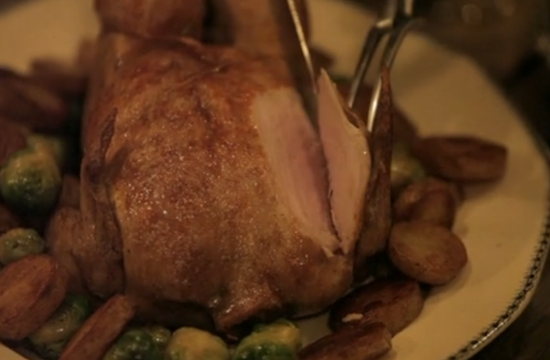 Lucky Peach: Up in the remote reaches of Scandinavia, Magnus Nilsson toils away at a Frankenchicken to feed the post-apocalyptic masses, grafting pork and beef meats onto the skeleton of a chicken. But as it came to life, lo, it looked to its maker and spake: "Did I request thee, Magnus, from my meat/To mould me Bird, did I solicit thee/From darkness to promote me?" Ponder that.
Vanity Fair: In an epic poem about the current worldwide lust for steaks, A.A. Gill points out that really, people eat steaks for the taste of blood. In his experience, the richest steak in the world was actually just the blood, drained straight from the beating heart of a cow. "My Masai dinner was, incidentally, the only steak a vegetarian could ethically eat; no animals were killed. It was organic, and it was wholly sustainable."
Twitter: Anthony Bourdain finally revealed the artists behind the title music for Parts Unknown, which he had been cruelly teasing for weeks. And the winners are: Mark Lanegan and Josh Homme. Good guesses, guys!
Eater: Brian Malarkey is really into unpretentious food. How into it? Just count how many times he says the word unpretentious in this interview on his Austin, TX expansion.
Afar: Did you know that, in Thailand, the blind are considered to be the best practitioners of Thai Massage? Andy Ricker does, and expounds on that and more on the best things to do in Thailand in this wanderlist. (Yes, he makes noodle suggestions, too.)
Serious Eats: A sign that serious pizza has made its way around the world: the opening of New York's lauded pizzeria Motorino in Hong Kong is greeted by the website of Serious Eaters as "off to a decent start" instead of being immediately hailed and embraced with a resounding "OMG FANCY PIZZA!"
Have a tip we should know? tips@mediaite.com