Last Call: Like A Guido Prodigal Son, Mike Isabella Is Opening A Restaurant In New Jersey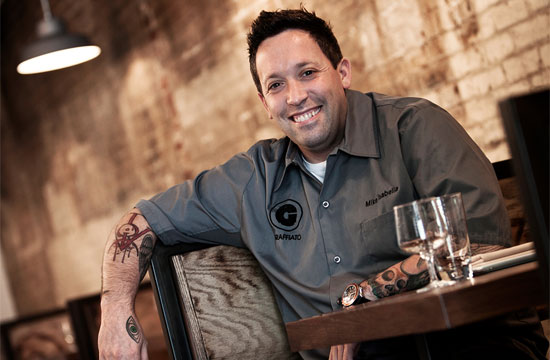 Eater DC: Once, Mike Isabella struck out from the shores of Jersey to make his way in the world, and now he returneth home to open a G GrabnGo in the tattooed land he once called home. He will honor his home state with sandwiches.
The Toronto Star: After an embarrassing norovirus outbreak, Rene Redzepi admitted that he'd learned from his mistakes and now sends his food to a university lab for regular testing. "This attack of a virus is the same as when a dishwasher breaks," he says. "You fix it. So we fixed it." And now we learn that Rene Redzepi can fix a dishwasher. What can't he do?
Grub Street NY: Alain Ducasse is opening a restaurant in Yonkers, NY. Granted, it's in a casino, but it's a 250-seat restaurant in Yonkers. If the author were a native New Yorker, the anti-Yonkers jokes would flow easily, we're sure.
Diners' Journal: Meet Doug Quinn, Manhattan bartender extraordinaire, who not only began putting his starpower behind the new Bill's Food & Drink, but who is also bringing back the bowtie as a status symbol suitable for non-hipster men.
Serious Eats: Poor Nick Anderer. The head chef of Maialino reveals that he can't put his favorite offals on the menu (specifically, milk-fed lamb or veal intestines), because cooking them would make the dining room smell like, well, lamb's intestines with fermented milk. Why does this still sound good to us? Nick, we don't care how many expensive dresses we'll have to dry-clean; that sounds divine.
Have a tip we should know? tips@mediaite.com