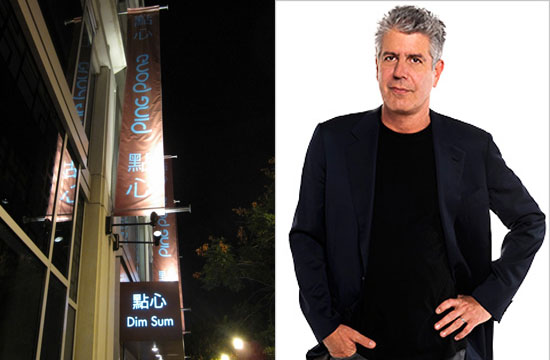 Fishbowl DC: Remember that time when a DC restaurant chain claimed that Anthony Bourdain gave them a ringing endorsement at the Capitol Food Fight, and then he said he totally didn't? The media reporters at Fishbowl rang up "baffled" Washington Examiner columnist Nikki Schwab, who reiterated that Ping Pong Dim Sum is "still certain he was in there and that he mentioned them." Which is hilarious, considering that right before we published that article, we got an email from Ping Pong's PR team saying that there was a "misunderstanding relating to this sighting," begging us not to write anything on it. (They did not respond to our requests for elaboration.) We believe you are intelligent enough to draw your own conclusions.
Youtube: Eric Ripert invites Gail Simmons to cook Welsh rarebit with him in this preview for the next episode of On The Table. We have so many things we want to say about this special episode BUT WE WON'T BECAUSE WE HAVE A SURPRISE FOR YOU.
Gotham Magazine: Daniel Boulud, Mario Batali, and Danny Meyer gather 'round a hot dog cart and discuss the things that are important, like staying on top of the New York culinary world, and how much influence Yelp has on their businesses.
Facebook: Homaro Cantu's memoir is now partially available on his Facebook wall, with vignettes written in post form. "Like!"
NBC: Parks and Recreation's Ron Swanson (aka carpenter Nick Offerman) thinks the so-called "baconopalypse" is total bullsh**t. His words, not ours. But just in case, he's here to help you survive the degeneration of bacon society.
Have a tip we should know? tips@mediaite.com