Last Call: Red Hook Releases E-Cookbook To Raise Funds For Restaurants Hit By Hurricane Sandy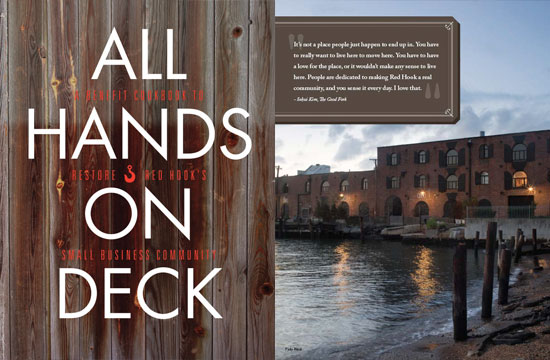 NYT: All Hands On Deck, a cookbook compiling recipes from Red Hook restaurants, is now available online as an e-book, with all proceeds going to help Brooklyn restaurants affected by Hurricane Sandy. Pete Wells interviews the editors, Catherine and Zac Overman, two Brooklyn natives who celebrated their wedding in Red Hook last October, only to find out on their honeymoon that Sandy ravaged the neighborhood.
Grub Street: A man is suing the Maker's Mark Bourbon House And Lounge in Louisville, KY for racism. Yes. Racism. We're not sure if it's a Kentucky thing to ask for "the ratio of 'black people' to 'white people'" at a private event, or to refuse to host a party that is "100% African American," but we're pretty sure that there are a bunch of civil rights acts that prevent this, because racial segregation is Not A Legal Thing now.
Decanter: The sale of Wine Advocate to a group of shady Singaporean investors is starting to look a lot more shady, since it turns out that the main shareholder in the magazine conveniently has a wife who runs an international wine retailer.  Hm, what would a good analogy be? We can't come up with any, because no one would be this blatantly shady ever.
Eater: Though his previous two attempts to find love open a restaurant both failed near-instantaneously, that has not stopped Flavor Flav from continuing his quest for love restaurateur success. Today marks the opening of Flavor Flav's Chicken and Ribs in Detroit.
NPR: Why isn't anyone blaming YouTube for warping the minds of our children? A report claims that children, imitating YouTube videos of extreme food challenges, are showing up in hospitals after "cinnamon challenges" gone awry. This is the only time that we'll advocate that they imitate the bad webcam singers and lazy cats instead.
Have a tip we should know? [email protected]