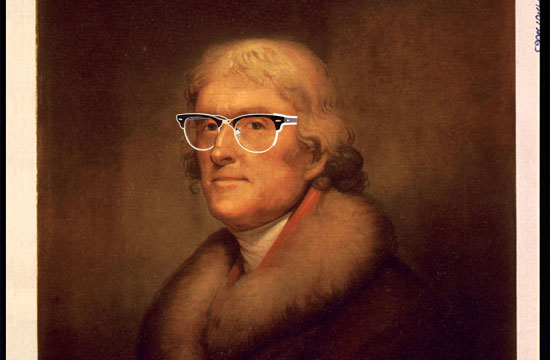 NYT: Seriously, Thomas Jefferson may be our second favorite founding father (behind Ben Franklin and before Gouvernor Morris), but after reading this article about his garden at Monticello, we may have to revise that opinion. An imagined monologue: "John Adams, was that sow raised within ten miles of Philadelphia? And was it fed with good American corn, or was it raised on British grain? You know that my commitment to the liberation of the colonies prevents me from eating anything that consumes British food. By the way, I just wrote my own version of the Bible because I'm really not a fan of the original."
Elle Decor: Speaking of persistent locavores, Alice Waters tells the interior design magazine that if she weren't in food, she'd definitely be an architect. Remind us one day to do a slideshow of architects whose design ethos matches those of chefs, because Grant Achatz would be Frank Gehry and Alice Waters would be whoever designed the set of The Hobbit.
The Daily Meal: This is a robot dress that allows you to play Truth or Dare while making cocktails. We think? There's something about biomechanical sensors that detect your moods and mix cocktails according to your emotions, but you can only get the booze if you play truth or dare. Did the creators realize that this dress has no point? Everyone knows all Truth or Dare games only end up with everyone taking their clothes off.
New York Times: An overwhelming majority of New Yorkers oppose Mayor Bloomberg's controversial soda ban, across five boroughs and all demographics. Could we say that it's…fizzling out?
Twitter: Ludacris's Chicken and Beer is coming to Atlanta's Hartsfield Airport in 2013, so if you're flying through the ATL and roll out through Concourse D, get your chicken and beer quickly before he tells you to get out the way, bitch, get out the way.
Have a tip we should know? tips@mediaite.com