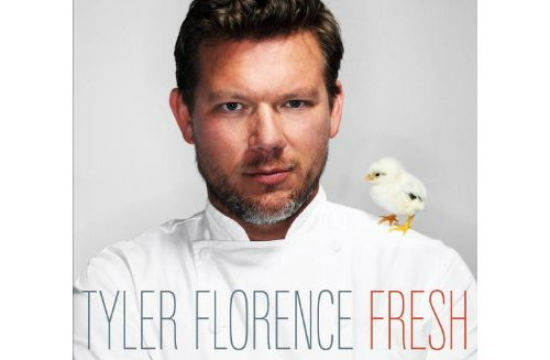 Amazon: Earlier today, Richard Blais announced on GMA that his new book, whose cover art features his head on a platter being peppered, was dropping early next year. Then we discovered Tyler Florence's book Fresh, which features him on the cover with an awkward gray streak in his goatee and a baby chick poorly photoshopped onto his shoulder, will be released December 4th. Conclusions: chefs make weird cover art.
Facebook: Stephanie Izard blogged about her experience going against Michael Symon on last night's Iron Chef, in which she done got beat. Thoughts include: "…After seeing it, i have learned a lesson. i am an idiot." Could we possibly love her any more?
NYDN: Chicken Soup For The Soul finally caved and began producing a line of chicken soups, as well as casseroles, stews, pot pies, and gravies. Although everyone's asking why it took them so long, we think it's because they needed time to perfect the flavor of overcoming adversity, mending a broken heart, and recovering from a crack addiction.
Obama Foodorama: Nine thousand, four hundred and forty-three signatures on the web petition to get the White House to release the President's Honey Ale beer recipe, and only one bottle of beer in the hands of the public. Man, this is the worst rendition of 99 Bottles of Beer On The Wall ever.
Eater DC: Mike Isabella and Tom Sietsema are still arguing over whether the decor really matters in a restaurant review. While Sietsema assured people that he wasn't referring to Isabella as a certain "not-so-top chef," at a certain level, this is like one of those old married couples arguing over whether they want to spend more money on the party decorations or the quantity of Swedish meatballs.
New York Post: Celebrity lawyer Mark Geragos is putting a restaurant on the ground floor of a recent 119-year-old property he recently bought. A celebrity lawyer investing in a restaurant? Whatever is this world coming to? We've never heard of such a thing here.
Have a tip we should know? tips@mediaite.com