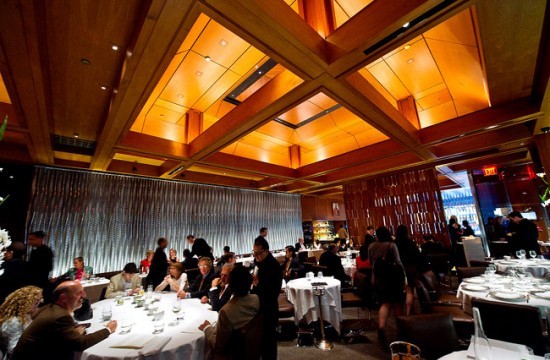 The New York Times's Pete Wells revisited the legendary fish temple Le Bernardin for the first time since his predecessor, Frank Bruni, renewed the restaurant's four star rating back in 2005.
Unsurprisingly, Wells agrees with that assessment seven years later, and glows with praise about how the restaurant, helmed by Eric Ripert, still focuses on creating a near-divine experience around the simple cooking of fish: "In spite of Mr. Ripert's television appearances, in spite of the restaurant's global acclaim, no one ever tried to let me know I was lucky to be there."
The quality hasn't changed in the twenty-six years since Le Bernardin opened its doors–in fact, it's been enhanced since the restaurant underwent renovations and remodeling last summer, updating it from a "corporate boardroom" to a more modern, "up-to-date, lively, intimate and playful" room with a "pulse."
And the way that Wells covers the menu, you just want to rub your face in the article and pray that it's the same as consuming "a white slab of steamed halibut…slowly surrounded by a crimson pool of beet sauce that, with crème fraîche stirred in, will turn the delirious pink of summer borscht." And others.
This article is pure restaurant porn, the high-brow kind that you read in ancient history class and evaluate as literature.  And lest you think that I am puffing this blog post with undeserved sycophancy with The New York Times: I was lucky enough to have dinner at Le Bernardin during the Alan Richman roast last week, and I agree with every word that Wells wrote. In fact, I think that dinner changed my life somehow — more on that to come.
[NYT]
Have a tip we should know? tips@mediaite.com