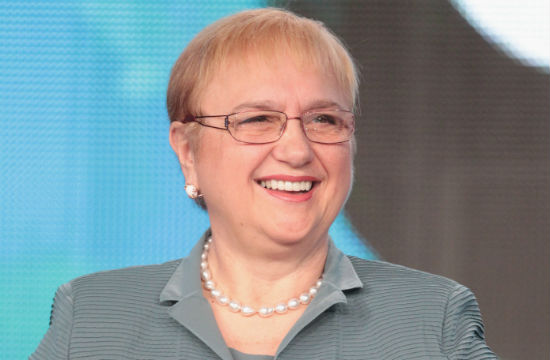 Lidia Bastianich has seen her fair share of both proposals and walk-outs in her New York City restaurant and, amidst her charmingly dated advice for landing a man through his stomach (and almost progressive advice about getting your man to cook for you — what, ladies don't cook for other ladies?), she revealed some of the most and least romantic moments ever witnessed in her restaurant.
The award for best proposal goes to a knight in shining armor. "We had a whole table of girls at lunch, and in comes…this guy in full silver, dressed as a knight," Lidia told Your Tango. "He genuflects and proposes to this girl, all the friends were there. She almost fainted."
We foresee trouble in interrupting a girls' luncheon to propose in costume, but they were probably one of those Ren Faire fanatic couples, anyway.
And you can't go wrong with casually dropping the engagement ring in her drink. Just go for clear liquids. Don't drop it in, like, a glass of bordeaux. Also, if she's drinking bordeaux at a restaurant, break up with her. She's probably boring. Says Lidia:
"We see a lot of people putting the ring in the drink, too…It's usually a clear drink like a martini or glass of wine. Staff has to be ready in case she drinks it up! Sometimes it takes a while for her to notice. You can see the nervousness of the mate. Then after it happens, the whole dining room usually stands up and claps.
The flip side? Terrible dates, typically culminating in a walk out. Body language expert/matchmaker Lidia Bastianich reveals, "Usually the woman walks out on the guy. Usually he runs after her, and they come back. Otherwise the guy tries to finish and casually asks for the check."
Very smooth, dude. About as smooth as the chick at the table next to you choking on her engagement ring.
Have a tip we should know? tips@mediaite.com