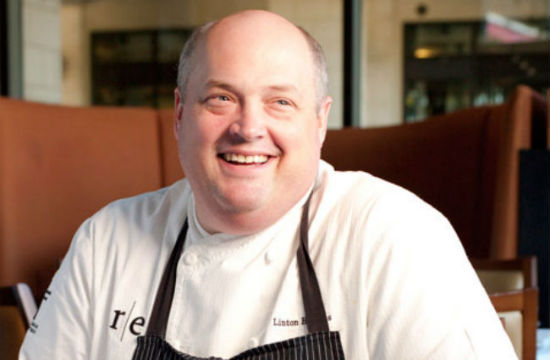 Linton Hopkins wrote a piece for Esquire's Eat Like a Man blog, as a part of their new "The Spill" series, which allows chefs, restaurateurs, and other insiders to vent aloud their issues with the biz, presumably when the Washington Post doesn't come knocking on their doors for op-eds.
In a piece entitled "Big Food Is Not The Enemy," Linton argued that we need Big Ag, Big Food, and Big Kitchens to feed our overwhelming population, but he suggested we apply seasonal, local, small farming models to the bigger picture in an attempt to purify our foods of additives and preservatives. Writes Linton:
"Shelf life's not the problem. The problem is a system where people actually want to hold a lot of inventory that never goes bad. Mold is a quality of bread. We don't need to have bread sit there all the time. Our bread shelves should be empty by the end of the day. And customers should be okay with an empty shelf. In our society, we expect to have everything right now. But by meeting that expectation, we've created a system where we're shipping mediocre food from all around the world. We're harvesting tomatoes that aren't ripe and that need a certain kind of soil with chemicals to survive just to feed this need that a sandwich has to have a tomato on it regardless of season. We've created a spoiled food culture and we don't recognize what that's cost us. It has cost us pure food.

I find with Big Food the definitions of our words are often the difference. What do you call "fresh?" For large-scale food, they're proud that fresh meat can be ground and stored for 21 days without going bad. Why can't we create a system where we just grind the meat every day or every two days? The company's still grinding. We deliver fresh-ground meat to Turner Field every other day and cook it to order. Why do you want to hold inventory? Just because you possibly could run out? It's okay to run out."
It's okay to run out? This model doesn't seem to allow for hormonal cravings. Dubious. You can read Linton's piece in its entirety here.
[Esquire]
Have a tip we should know? tips@mediaite.com