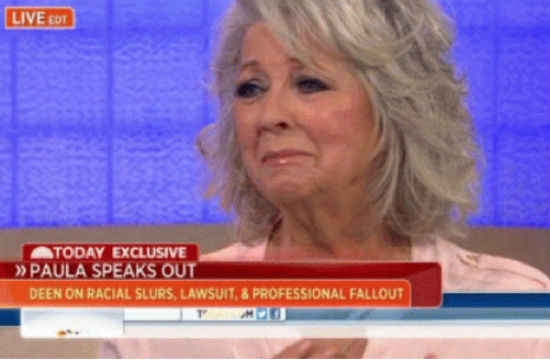 Lisa T. Jackson, better known now as the white woman suing Paula Deen and her brother Bubba Hiers for sexual and racial harassment, has released a statement to TODAY.com about the lawsuit, which marks her first time speaking out since N-word-mania swept the interwebs.
The "lawsuit has never been about the N-word," Lisa says in the statement, but rather, it was filed, "to address Ms. Deen's patterns of disrespect and degradation of people that she deems to be inferior."
Wait, the shocking part of Paula's behavior isn't that she copped to using The N-Word thirty years ago, but that her pervasive racist ideology seeps into aspects of her everyday life, as illustrated by her desire for a plantation themed wedding staffed by Black men and women dressed as slaves? That sounds really familiar. Where have we heard that before?
As for the #DeenTeem's latest legal defense claiming that Jackson doesn't have any standing in the racial discrimination case, because she, herself, is a white woman, with no ties to the African-American community, says Jackson, "I may be a white woman, but I could no longer tolerate her abuse of power as a business owner, nor her condonation of Mr. Hier's despicable behavior on a day-to-day basis."
And, just to prove that she understands irony and possesses a sense of humor, Jackson adds, "I am what I am, and I am a human being that cares about discrimination in the workplace. In part, in this circumstance, I have to be a voice for those who are too afraid to use theirs."
RELATED:
WATCH: Paula Deen's Exclusive Today Show Interview, 'I Is What I Is And I'm Not Changing'
Paula Deen's Lawyers Cite Prop. 8 Ruling In Attempt To Force Dismissal Of Racism Case
Paula Deen's Latest Defense: The Woman Suing Her For Racial Harassment Is White
WATCH: Today Show Uses Paula Deen Interview To Report On George Zimmerman, 'Post-Racial Society'
Today Show Recruits Body Language Expert, PR Guru & Carson Daly To Dissect Deen Interview
Kathie Lee Gifford's Misguided Defense Of Paula Deen: 'The Facts Are Not Yet In' (VIDEO)
Have a tip we should know? tips@mediaite.com