Long Island Chef Blasts Sen. Chuck Schumer For Axing Duck Dish At Inauguration Lunch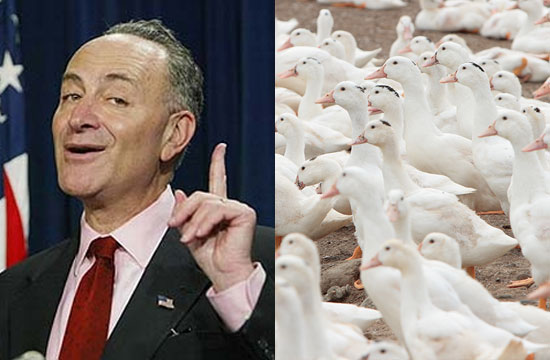 In a move that collectively induced food writers everywhere to dust off their best duck-related puns, a Long Island chef announced a press conference today that would denounce Sen. Chuck Schumer (D-NY) for not having Long Island duck on the menu at yesterday's Inauguration luncheon.
Butch Yamali, who has the perfect name for a New York duck farmer, told Politicker that he took great offense at the fact that Schumer, the chairman of this year's inaugural festivities, stocked the inaugural luncheon with other New York products, but slighted the state of New York's pride and joy. In fact, Schumer told the New York Times earlier that though he'd hoped to feature Long Island duck, it had to be replaced with…bison.
"The duck was very good, but the preparation wasn't great. We settled on South Dakota bison," he shrugged. "When New York gets good bison, we'll have that."
Bison, of course, is the long-sworn enemy of the duck, and Yamali could not take this insult sitting down. "Long Island is known throughout the world for its duck — and even has a minor league baseball team called 'The Ducks,'" he said in a statement, announcing that he would "formally rebuke" the Senator for this grave offense.
"Of all the things to be left off Chuck Schumer's New York-inspired Inauguration menu, he should not have removed the duck," he continued, calling Schumer out for giving the duck "the bird." (And there it is.)
Schumer has not responded to Yamali's petition or duck-related mishegas.
Have a tip we should know? tips@mediaite.com