Lorena Garcia Talks Partnering With Taco Bell And Why She Hates Molecular Gastronomy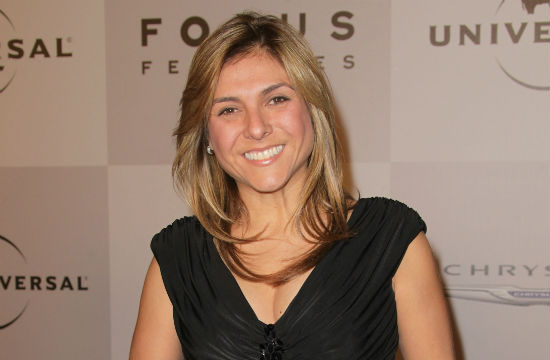 Lorena Garcia recently partnered up with Taco Bell, of all restos, to roll out their new line called Cantina Bell. The Cantina Bell menu features dishes created exclusively by Lorena, and functions as Taco Bell's attempt at offering healthier, fresher menu options. They're basically all but announcing it as Chipotle's newest rival.
So we found it curious that Lorena signed on to work with the fast food chain, not only because she's an accomplished Venezuelan chef, but also because she worked rather closely with Chipotle founder Steve Ells on America's Next Great Restaurant. Of course, nosy nellies that we are, we grilled Garcia ourselves on going head-to-head with her former partner, and she graciously answered.
Unfortunately, we couldn't squeeze any details out of her on the upcoming season of Top Chef Masters, which premieres July 25th. She's among the Masters cheftestants this season but would only tell us that we had to tune in to find out what went down.
Check out our Q&A with Lorena below for more on Cantina Bell, plus why she's Giada De Laurentiis' biggest fan and molecular gastronomy's biggest hater.
The Braiser: So one of the things we found most interesting about your partnership with Taco Bell's new Cantina Bell launch is that it's being touted as a game-changing Chipotle competitor. You worked very closely with Chipotle's founder Steve Ells on America's Next Great Restaurant, even investing in the show's winning restaurant concept with him. So why become such a distinct and direct competitor of your former partner? Do you feel at all like you're biting the hand that feeds in taking on Cantina Bell?
Lorena Garcia: To be completely honest, I was coming back from Argentina, shooting two series, I was writing my book, I have four restaurants of my own — high-end Latin cuisine with a healthy twist — so I completely dug into my business and my company. So, no Chipotle, no Taco Bell was in my mind at all. Two years ago, I was in my office and Taco Bell called me and, of course, with Taco Bell, I didn't really understand what the situation was, I don't do fast food chains, you know, it had nothing to do with my world. And when I go there, to the team, and what they wanted was recipes and they asked me to give recipes to them and to also try what they had and what would they do differently. And I realized in that moment that it was not only a great opportunity because they have the man power — I mean we train over 150,000 employees to create this menu and to make it exactly right. We're talking 6,000 stores across the country.
So, what a great opportunity! If I can bring a great menu, great quality to the ingredients, and create great recipes for them, why not? If I can give my message to so many for an affordable price, because if somebody can do it, it's Taco Bell. The power they have to buy the ingredients, imagine what we can do, and it's exactly what happened. It took two years of going back and forth, of developing recipes for them to make it. For them, I really wanted to simplify the produce and make it accessible for them to do it and at least it started, at one point, this is how the Cantina Bell menu with me, it started.
We are creating a menu, we bring in 8 new ingredients and then as the time passes by… Believe me, we're bringing great ingredients, great menu items to the Cantina Bell menu and this is actually, for the first time, a company paying attention to the way their customers are eating, the evolution of our customers. I'm a restaurateur myself, and I see that constantly. So, the fact that Taco Bell made the decision to bring me to the table, to bring my flavors, to bring my ideas of my cuisine to their environment, I was very happy because again, it's a big opportunity for a big improvement to stay current in the business and I think that it's a great combination.
Who is your culinary icon?
Of course, you have so many people out there that are doing a great job. You see from Martha Stewart to Giada, I think she's doing a great job too. She's amazing, are you kidding me? The other day, I was walking in New York on one street and I see her walking in front of me and I almost freaked out.
If you could have any chef in the world cook for you, who would it be?
Oh, wow. Let's go with Giada. I would be excited if she comes and just cook for her.
So you'd want to cook for Giada, too?
You know what? I think I would put together all the chefs that are in this industry, sit [them] down, we just do a cook-off, and show them what Latin cuisine is all about. Big group of foodies. Absolutely.
What aspect of celebrity chefdom is the most gratifying for you?
Yeah, it's not easy by any means. You know, I love being a restaurateur. I come from the kitchen, I've been on the line, I cook in my own restaurants, so I'm a big restaurateur. I think that's my core. I love doing my classic, classic cooking shows in which I'm going down doing my cooking and I love that. I love to work in Spanish, I love to work for my community, so yeah, that's me.
Is there a food trend you think is played out these days?
I don't love the type of chefs that like food that's not realistic, [so] that you think you're eating something that you're not. Things that explode in your mouth, and food that is something that's not — I'm not that kind of chef. I love to eat food that is fresh, simple, that let the ingredients speak for themselves. I'm not that type of a chef, a molecular type of a chef. I'm not [a fan of molecular gastronomy]. I'm not at all.
What cuisine would you like to learn more about?
You know, I think that maybe some Indians flavors. I mean, these are things that I haven't been exposed to, and everything Mediterranean, Italian, French, I've been very much exposed to. Asian — you know I've been in Thailand, Japan, China — so I am very close to those techniques and those ingredients, but when it comes to [India], I would definitely like to be a bit more knowledgeable.
Be sure to check out Lorena on the season premiere of Top Chef Masters: Las Vegas, kicking off July 25th at 10pm ET on Bravo.
This interview has been edited and condensed.
Have a tip we should know? tips@mediaite.com