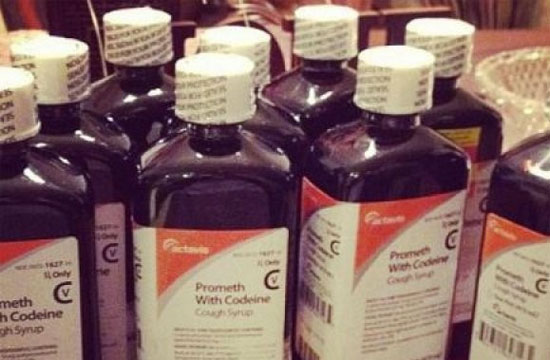 We write about food. And we write about celebrities. Which is the reason we are justifying informing our readership of this important food shortage: the main ingredient in the popular rap star beverage known as "sizzurp," "purple drank," and "sip sip" will no longer be produced, and has consequently led to dramatic sizzurp shortages throughout the nation.
In an "unprecedented" move, the pharmaceutical company Actavis announced today that it would no longer produce Promethazine Codeine, a high-end cough syrup that happens to be the key ingredient in sizzurp.
While they stood by the integrity of their product, Actavis got disturbed that rappers like Lil' Wayne, Soulja Boy, and Justin Bieber (shut up he counts) were glorifying their medication on social media, and sometimes got addicted (and nearly died from it). "This attention has glamorized the unlawful and dangerous use of the product, which is contrary to its approved indication," they told TMZ.
As a result, the rap industry is experiencing what economists would call a "crisis of artificial scarcity":
Before Actavis pulled the plug on the product, the street value of a pint bottle hovered around $800 — but sources familiar with the market tell TMZ, rappers are now offering insane sums to buy up whatever's left. We're told one prominent rapper has already offered his dealer up to $100,000 to get whatever he can.
This is a site about food in the news.
[TMZ]
RELATED:
Ja Rule to Geoffrey Zakarian: I Want to Write A Cookbook of 'Microwaveable' Prison Recipes
2 Chainz's Health-Conscious Cookbook Includes Turkey Bacon Covered in Gold
Portland Bar Bans Cognac, Gets Accused of Racism
Have a tip we should know? tips@mediaite.com