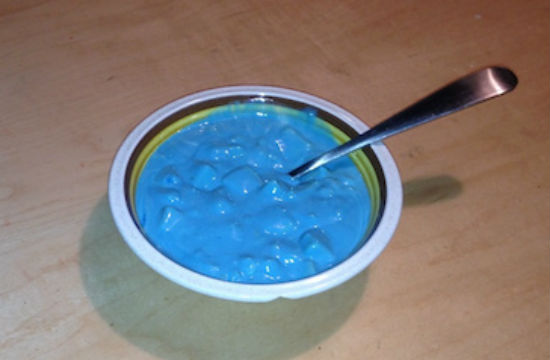 Are you totally disillusioned with culinary pornography as a whole? Sick of your Instagram feed getting blown up with your BFF's most recent trip to Alder? Want to use your escargot fork to stab out the eyes of your table neighbor at Balthazaar who refuses to turn off his camera flash? Meet your new favorite Tumblr.
Male Chef is a really simple feed of poorly framed photos of disgusting foods in response to the perceived obnoxiousness of food porn curators and addicts. See above photo, entitled: "Blue Soup."
Male Chef creator Chris Maggio tells VICE:
I'm a complete outsider to the culture of food. It's a little painful for me to live in Brooklyn because there seems to be some sort of food renaissance happening here that's culturally relevant. I feel completely excluded from it, but that may just be my own doing. It seems like I'm clueless enough to participate in the food movement in a satirical way. Most of the fodder stems from looking at food photography on food blogs and Yelp, where the idea of going out to a restaurant and almost stealing someone else's piece of artwork is frequently exhibited for a wide audience to see…I feel like Male Chef erodes the idea of food photography and helps to demolish the idea that food bloggers and food photographers can get peripheral success based off of the efforts and ideas of others.
Ugh, our own attempts at food porn satire feel so inadequate now.
[VICE]
RELATED:
We Stood in Line a Total of 4 Minutes Waiting for The Pastry Which Must Not Be Named
Creepy Craigslist Ad Seeks 'Babe' Blogger To 'Take Food Porn From PG-13 To NC-17′
Interview With Eddie Huang, Part Two: 'You Want To See Food Porn? We'll Go Make F**king Food Porn."
Have a tip we should know? tips@mediaite.com