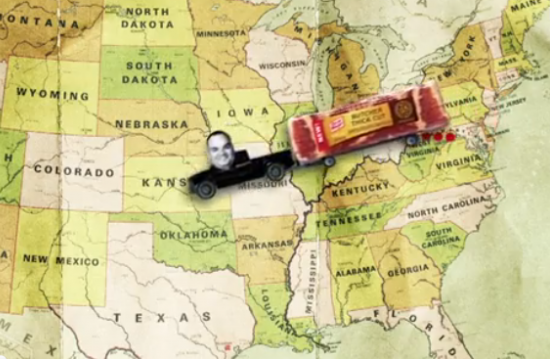 One night, the creative directors at Oscar Meyer got super wasted and came up with a genius advertising campaign the next morning, while hung over and eating bacon sandwiches: send comedian Josh Sankey on a cross-country trip, where he can only use bacon, kept in a giant refrigerated truck, as currency.
He's made it to Chicago already, says the Huffington Post, by bartering and haggling his crispy gold for things like food and lodging. "I crashed at a firehouse in Bucktown in Chicago last night for 150 bricks of bacon," he told them. "I bartered for pillows and sheets–they weren't giving up easy. I was up with the guys talking and then we went on call. We cooked up a big breakfast with the bacon and I just climbed up one of those 100 foot extension ladders and my heart is pounding."
But it would be so boring if Sankey only used infinite bacons to crash on couches, and he's had some fun with it so far– he paid a man 137 bricks of bacon in Louisville, KY to get a bacon tattoo. Even better? "I'm thinking the ultimate would be a suite, being shown the town, taking in a great show somewhere…We definitely want to do it up in Vegas."
We would very much like to use bacon as real world currency. It would make things like "quantitative easing" and "discretionary spending" way more palatable, and we'd get to see how much bacon Apple stock is worth on the NASDAQ. The Euro Zone could turn into the "Salumi Zone." And the Middle East and Israel…would be totally screwed. Nevermind, scrap that idea.
[HuffPost]
Have a tip we should know? tips@mediaite.com