Marc Vetri Hangs Out With the President and Demands Congress Set a Budget (No Biggie)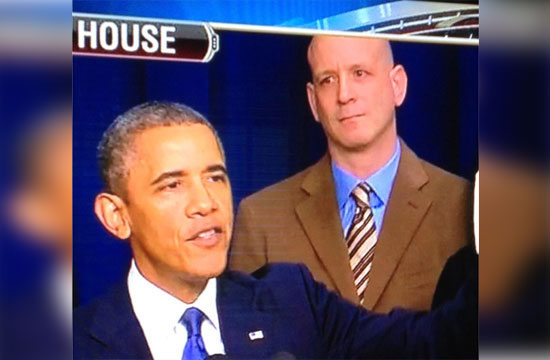 Eagle-eyed chefspotters may have noticed that Marc Vetri was standing behind Barack Obama during the President's speech this morning on the state of the economy (and, unfortunately, the response to today's shooting at the Washington Navy Yard). Coincidentally, it's the fifth anniversary of the collapse of Lehman Brothers and Bear Stearns, and as every restaurateur and chef knows, the beginning of the credit crisis was the moment the shit hit the fan for the industry.
As a Normal Everyday American with a small but thriving business (which, to be honest, translates into Wildly Successful Restaurant Empire in terms of profit margins), Vetri managed to weather through years of economic turmoil by using some counterintuitive strategies: sticking to a prix-fixe menu at night, serving chicken tenders by day, and opening pizza restaurants alongside fine-dining temples, among other things.
Obama referred to Vetri, as well as a group of other Regular Americans standing behind him, as people who'd survived economic uncertainty and were now "in a better place," but in order to ensure their continued economic well-being, demanded that Congress pass a freaking budget, already. It probably won't happen until the very last minute, but hey, Marc Vetri got to talk about Italian food with the President, and not many people get to do that:
In case anyone was wondering, I was in the Oval Office talking Italian food with the Pres.

— Marc Vetri (@marcvetri) September 16, 2013
RELATED:
Marc Vetri's Life Wisdom: Don't Try Becoming A Chef Unless You're Willing To Work For It
With 47.1 Million Americans On Food Stamps, Usage Skyrockets To Highest Levels In US History
Have a tip we should know? tips@mediaite.com