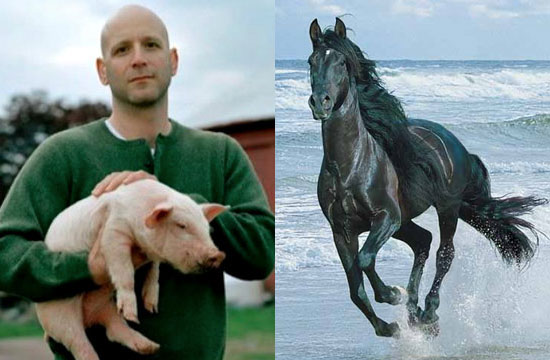 A few days ago, Philadelphia chef Peter McAndrews sparked animal rights outrage when he announced that he would start serving horse meat on his menu, to the point where he started receiving multiple bomb threats daily. However, someone's got his back — and that person is the ever-eloquent, ever-sensible Marc Vetri.
For one, Vetri writes in The Huffington Post, why idealize the horse over an — okay we'll say it — fatter animal like the pig? What's so special about a horse, anyway? "It sounds to me like the Hollywood of animal selection. Tall, thin and beautiful people are fawned over like they walk on water, but if you're fat and homely, stay away, it's just not gonna happen for you — you're not special enough," he cracks.
But seriously, he argues, why is the discourse so heated — even violent — over something like horse meat, when that passion should be redirected towards other, bigger, more damning issues?
I find this vitriol directed toward farmers and chefs to be a bit odd. In the course of worrying and fighting about what's happening to these animals, we've forgotten about what's happening to our own children. Why aren't we picketing and fighting with the same vigor for their well-being and health? It's the ultimate hypocrisy. In this country, obesity is at epidemic proportions, and showing no signs of slowing. We feed our children junk like high fructose corn syrup, and animal products artificially injected with hormones, additives and preservatives. Now, that's if we even feed them at all. Seventeen million American children are food insecure. The fact of the matter is if we worried about our children as much as we worried about horses and ducks, we would be able to annihilate many of these issues.
He then goes on to advocate for the Chef Who Cares About Where His Food Comes From, and that part of the essay alone is worth a read — especially for you, Animal Rights Activist Who Thinks Bomb Threats Are A Valid Form Of Intellectual Discourse And A Mechanism For Lasting Social Change. Yeah, we're talking to you.
Have a tip we should know? tips@mediaite.com