Marco Pierre White Defends Curtis Stone's Endorsements: He's 'Not Selling Out'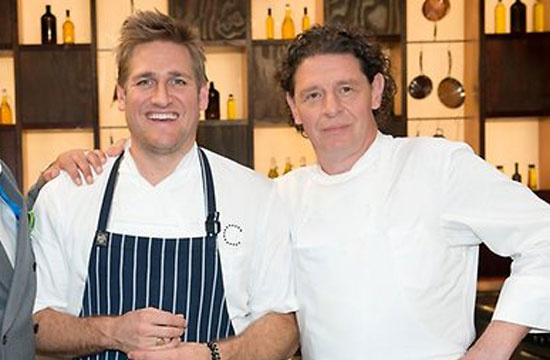 While it's not surprising that Marco Pierre White would defend the idea of corporate endorsements — heck, the man is known for putting his name on soup stock cubes! — it's at least consistent to see him defend his Australian protege Curtis Stone, who has no shortage of his own endorsements and hasn't stepped behind a stove since 2002, as admirable and not a "sell-out."
"What Curtis does every week of his life is inspire people to cook," he told Australia's News Limited Network, arguing that Stone's endorsement of a local supermarket chain and his appearances on cooking shows like Top Chef Masters and Around The World In 80 Plates allowed him to influence the lives of millions of people, rather than his limited reach as "an individual who has three hats, serving 40 covers.'
"He enriches the lives of others, so how can these people criticize?" White said.
"Look at how many lives he's touched, look at how many people he's inspired to come into the industry, how many mothers he's inspired to go shopping for better produce to feed their family. It enriches their lives, so how can you criticise a man for doing it? You can't."
True. However, Curtis Stone has yet to inspire people to travel around the world and make up their own French words, so that's a point lost in the "inspiring people" category, and a point added in the "he totally did that show to go on a free trip around the world" category.
In any case, MPW suggests that Stone's culinary peers should "applaud him, not pull him down" for his efforts. We would like to see him take his own advice when he hosts the next season of Australia's MasterChef: The Professionals. Want proof? Here he is below in a promo for the show, looking kind of like a drill sergeant in a kung fu movie.
[News Limited Network via Eater]
Have a tip we should know? tips@mediaite.com