Marco Pierre White Defends Knorr Bouillon Endorsement, Blasts His Critics As Out-Of-Touch Elitists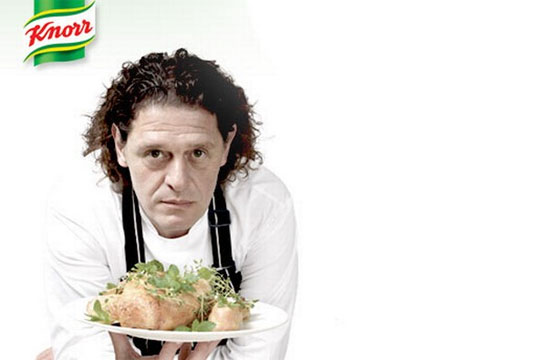 In the past, we've given quite a bit of flack to Marco Pierre White for endorsing Knorr, the bouillon company whose insta-soup products stand in stark contrast to his reputation as a high-end chef. These days, though, he's sort of adopted a strange "common man" persona while at the same time opening a string of high-end restaurants, but don't you dare question his endorsements. In a recent interview with the Birmingham Post that also saw him blast Michelin-starred restaurants ("I find a lot of the modern Michelin-starred restaurants are trying too hard"), he slammed his critics for pooh-poohing Knorr and Bernard Matthews, the source of his other major endorsement deal:
He says: "I've used Knorr for three decades – at home and professionally – instead of salt.

"If you make 20 pints of mushroom soup, ten pints in one pan and ten in another, and season one with salt and the other with Knorr chicken bouillon which tastes better?

"It's about honesty. It has its place.

"Journalists wishing to criticise me for that, well, what do they do? Do they use Knorr? Do they all make fresh stocks? I don't know. I just know I want to be a realist."
He then elaborated that, yes, he was also calling them elitist snobs:
"What crime did Bernard Matthews ever commit? He made turkey affordable for the working man. If it wasn't for Bernard Matthews a lot of families at Christmas wouldn't have a turkey on the table – and I'm from one of those families. Just because I've won three stars does that mean I'm not allowed to endorse people who could be enriching the lives of other families?"
Well, there's no problem in enriching the lives of the ordinary family who doesn't have time to fuss over a pot of stock (and really, who actually has time to make stock?), but we can tell how you neatly sidestepped the issue about the over-processed ridiculousness that is Bernard Matthew's product line (Turkey Twizzlers, seriously) by making it all about the fancypants critics.
[Birmingham Post via Eater]
RELATED
Marco Pierre White Defends Curtis Stone's Endorsements: He's 'Not Selling Out'
Marco Pierre White Might Get A Movie Deal, Too
Anthony Bourdain On Why The Best Celebrity Chefs Just 'Don't Give A F*ck'
Have a tip we should know? tips@mediaite.com