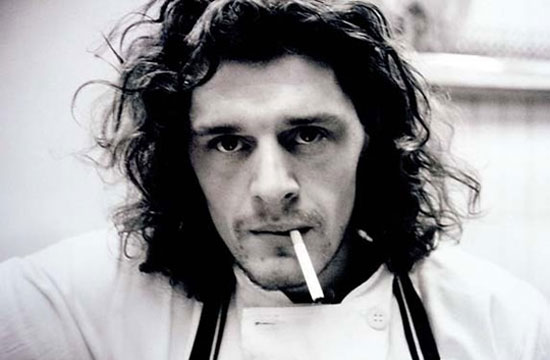 Everybody is getting a movie deal, and by everybody, we mean three or four chefs. That number's increased by one with the news that Marco Pierre White's ridiculously compelling autobiography White Heat might be getting the Hollywood treatment as well.
The Daily Telegraph of London reports that Jordan Scott (daughter of Ridley) and a major London studio are in talks with White to turn his life story into a film. Though nothing is concrete yet, anonymous sources say that White is "thrilled" that a movie adaptation is in the works, given how influential and inspirational his bio is. Seriously, it's like Charles Dickens wrote his life, if Charles Dickens swore a lot:
One of four sons, White was only six when his mother Maria died of a brain haemorrhage aged 38, two days after giving birth to her last child.

Life on a council estate in East Leeds got even harder.

After leaving Allerton High School without any qualifications, White packed his bags and left home with only just seven pounds to his name and got his first start at the Hotel St George in Harrogate, North Yorkshire.
Did you cry? Did you pass a law banning child labor? Good.
After that came Gordon Ramsay, three Michelin stars, using Mario Batali for risotto target practice, a feud with Gordon Ramsay, and a slew of great television shows and dubious endorsements. There is so much to pack into one movie, we're not sure how one could do it. Maybe they should pull a Lincoln and make a movie about three months of his life. (Daniel Day-Lewis should be in it, too. As Mario Batali.)
[The Daily Telegraph via Eater]
Have a tip we should know? tips@mediaite.com