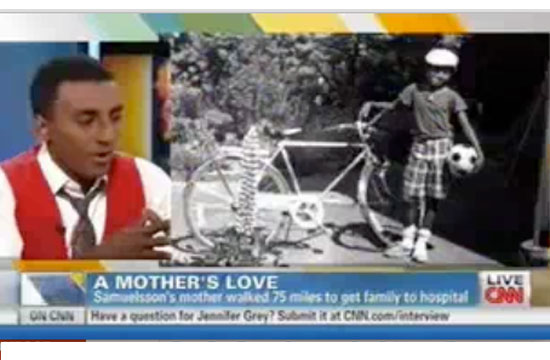 This morning, Marcus Samuelsson, looking jaunty as always in a jaunt-tacular red vest, sat down with CNN's morning anchors to talk about his bestselling new memoir, Yes, Chef. And while he went through the same talking points that he's been using throughout his media junket — compelling background, overcoming racism, love of Harlem, etcetera — this time it was different. This time…there were baby pictures. 
Okay, not really baby baby pictures, but they're no less adorable: Baby Samuelsson, trotting through the Swedish tundra with a wee knitted hat and a puffy coat; Baby Samuelsson at the beach with his adoptive mother, tiny head lost in a huge baseball cap; a slightly-less Baby Samuelsson in a newspaper boy cap with his family. (I think we're seeing where Marcus Samuelsson's love of hats comes from.)
But even more revealing than his childhood hat collection is his recollection of how he'd become fascinated with Harlem as a child, and why he opened Red Rooster:
"Well, my parents wanted to learn — my mom always wanted to learn about how to take care of my sisters' hair. Or my father wanted to teach me about great African-American leaders, like Martin Luther King and so on. And from my mom reading Essence [Magazine] and fixing my sister's hair… and my father giving me books. And it was always centered around Harlem. So it was this place that I knew so well even before I came to New York. So I knew that one day, you know, I wanted to have a restaurant in Harlem, and we are having the time of my life."
Unspoken: Take that, Eddie Huang.
Have a tip we should know? tips@mediaite.com