Marcus Samuelsson Says Eddie Huang Is 'Punching Up'; Huang Fights Back With Ninjas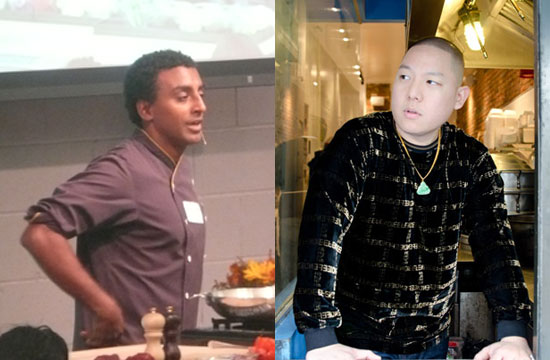 Eddie Huang's gentrification beef with Marcus Samuelsson is alive and kicking, at least from the journalists who want to get everyone involved to address it in greater detail. Sorry, guys, the Washington Post beat you to it, most likely because Tim Carman got to sit down with him and his wife Gate Maya Haile for lunch and an interview about Yes, Chef (the second part of which will go up soon.)
When Carman asked for his thoughts on Huang's controversial opinion that he, a Swedish native, acted patronizingly  to Harlem natives, Samuelsson allowed that this could be one interpretation. "The other quick answer is that maybe he wanted to punch up," he suggested, then clarified with an answer that was decidedly not quick:
Are you kidding me? It's a joke. You're dealing with a guy who doesn't want to enter a conversation. Even discussing it is a waste of time… I trust the journalists that I've read and that have carefully thought about what to [say], and then render their judgment. I also trust my own work. I have zero interest to get into people who want to get famous. There's two ways to get famous. There used to be one way: You worked really hard, and you were really good. That was the only way to get known. I still believe in that one. So if I poured a beer on you and we put that on YouTube, maybe we'll get 4 million hits. I have zero interest in that.

… Criticism is part of the creative man's journey, and I appreciate it. Garbage is not part [of it]. I see the game. The game is about punching up today. The game is about 'Here's somebody that does something great. Well, rather than applaud it, I can now punch up and be part of that conversation.' What's fascinating today is that . . . before, there was not an outlet for that garbage, and today, real platforms are actually writing about that. That's what's fascinating to me; the real platforms are lowering their guard.
Naturally, Eddie Huang  berated Carman immediately for not asking Samuelsson to explain the tone of his book, while also mentioning things like ninjas and ex-girlfriends. Carman eventually dismissed him as "sloppy and unfocused," but the New York Observer (which published Huang's piece and consequently got swiped by Samuelsson) dissected the interview and found multiple inaccuracies, hypocrisies and plain old personal attacks on Samuelsson and Carman's part. They eventually issued the verdict:
While not everyone at this paper will agree with what Huang had to say, most of us would argue his right to say it (on the sure-footing of the aforementioned facts, alone).