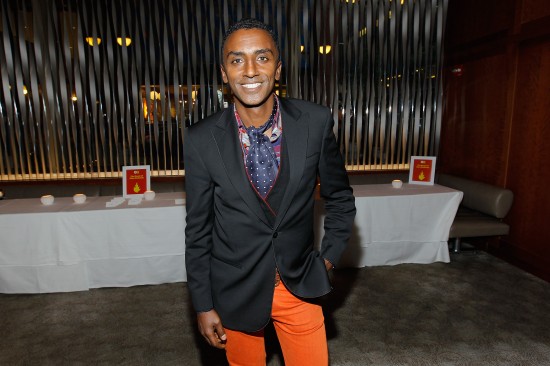 Last week, food bloggers everywhere had the vapors when we chanced upon an excerpt of Marcus Samuelsson's new memoir Yes, Chef, that recounted a racist phone call between the Ethiopian-born, Swedish-raised chef and the volatile Gordon Ramsay. The only person unruffled by the story? Samuelsson himself.
In an interview with Zagat previewing the book, Samuelsson said that, wisely, he hadn't seen Ramsay since the incident "10 or 12 years ago" and that he's "moved so much forward from that."
Obviously that day, that week, you know — it took me awhile and I was shocked, but you know, you move on. You know, I wish him the best. I have so much in my life, I don't want anybody to feel sorry, to pity me. And from my point of view, I'm explaining how personal a cook's journey can be. It can be amazing and there are lots of things that make it challenging. And that was a challenging moment, and then you move on, and it makes you stronger; that's it, at the end of the day.
That…is a super zen way of looking at things, Samuelsson! Especially since, as he writes, race remains a huge obstacle for aspiring chefs. That's why he keeps his Harlem restaurant Red Rooster as diverse as possible. "My staff of 50% is women, and it will always be…  So it could be gender, it could be race — of course things have evolved, but there's still a lot of improvement to be done in terms of African-Americans in the fine dining world."
Yes, Chef hits stores next Tuesday, and Gordon Ramsay hits a line cook in the face with mean words on Hell's Kitchen next Monday.
Have a tip we should know? tips@mediaite.com