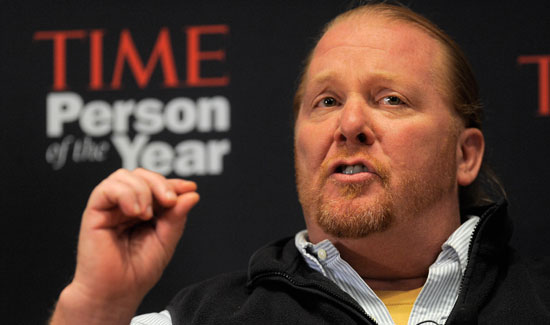 While we're aware that it's hard out here for a chef ('cause a whole lotta bitches jumping ship, really), we'd like to express our envy at the relative ease of Mario Batali's newest gig as "Guest Editor" for the online publication Lifestyle Mirror. See, his new "job" is not so much a "job", but rather a convenient way for Mario Batali to wax poetic about the things he does in his cool, cool life as a cool, cool chef.
For instance, he gets to brag about his summer reading list (yes, you're so cool for knowing all about Spanish literature; Sor Juana Inés de la Cruz is the baddest bitch, whatever). A couple of weeks ago, he showed off his summer playlist (fine, we'll agree that Yeezus is the Album Of The Summer), his favorite restaurants, and his favorite summer objects.
Sigh. If only editing was as easy as telling you what we like to do. If that were the case, we'd tell you that our favorite books of the summer are This is Where I Leave You (Laura), The Cuckoo's Calling (Mariella) and The Federal Reserve And The Financial Crisis (Tina).
We'd wax poetic on things like our favorite summer objects: tacos, Havaiana flip-flops, and blocks of ice next to an oscillating fan. And we'd never, ever, ever tell you about the real annoying side of editing: writing and re-writing and praying that our work doesn't sound stupid when we have to inevitably publish, cringing when we accidentally use the term "whitey", dealing with PR emails, managing interns, worrying about site traffic, and thinking about the inevitable decline of journalism — Mario, you've got it good as an editor. Real good.
But then again, we're not rushing to take your place as a restaurateur juggernaut. Our relative non-skills at numbers = not good for business at Eataly.
RELATED:
Video Flashback: Remember That Small, Adorable Mario Batali Cameo In Fantastic Mr. Fox?
WATCH: Batali, Colicchio, Flay, And Ray Are Super Self-Aware Celebrity Chefs
WATCH: Super Mario And The Batali Bros Mock Jimmy Fallon's Golf Skills
Have a tip we should know? [email protected]