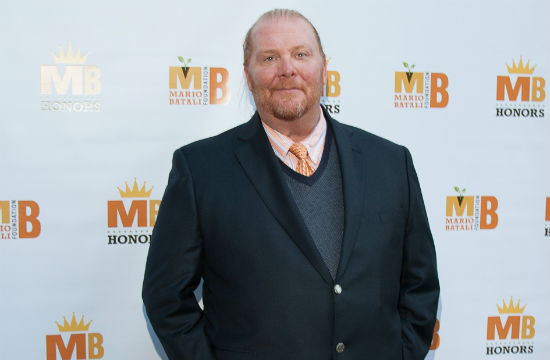 The guest on the Bon Appétit 'Foodcast' this week was one Mario Batali. He and host Adam Rapoport talked University of Michigan (go blue!), how to manage people by being nice, and when to order Mozzarella Di Bufala, vs. when to go with Burrata.
Batali is hard not to love. He's totally done the celebrity thing right, and is in an extremely small category of people who didn't lose his culinary cred when he got famous. Outside the kitchen, he does a ton of good, including championing the Eat (RED) Drink (RED) Save Lives campaign. You could call us obsessed, but we still learned a lot from the podcast. Here are the things you need to know:
1. He was recently in New Orleans on vacation and he ate really, really well. His favorite Po' Boy in New Orleans is from Domilise's (ours too). It's not right in town, but it's worth the trip out. Get the shrimp or oyster po' boy, but not the combination. It's better when the seafood is made separately. Oh, and don't ever, ever get a roast beef sandwich unless you really don't eat seafood. It's good, but not as good as the others. The best thing he ate on the trip as a whole? Cobia Collar from the James Beard Award winning Peche Seafood Grill.
2. He participates in Meatless Monday, and though we may not have guessed it given the things the chef does with meat, he likes eggplant meatballs. Recently, he even made them with gluten-free breadcrumbs. Who'da thunk it?
3. He shops for his groceries at Eataly (no surprise). What we learned is that because the store has restaurants in addition to the retail store, they end up wasting almost no food. Awesome. When he can't make it there though, he'll go to Gristedes or Citarella.
4. Dave Pasternak, from Esca, does some of Batali's favorite razor clams ever.
5. He likes sable better than lox, because it seems more "lush," and it's "harder to find." He's a big Russ & Daughter's Guy, but he also likes ACME Smoked Fish, particularly their smoked white fish.
6. If he had to choose between fresh and dried pasta for the rest of his life, he'd pick dried, no hesitation.
7. Anchovies over sardines. He likes them raw and marinated like you'll get on the Amalfi Coast. He also likes the Spanish ones, packed in olive oil.
8. Mozzarella de Buffala over Burrata, mostly. If you're in Puglia, get Burrata. In the United States, though, it's best go go with Mozzarella de Buffala.
9. "Broccolini is a scam." Why? "There's no bitter component to it," which it should have. Broccoli rabe all day.
10. The last question was, "butter or olive oil?" Batali answered, "give me a break." Of course he chooses olive oil.
Related:
Mario Batali's La Sirena is Nothing Groundbreaking, But in a Good Way
WATCH: Anthony Bourdain And Mario Batali Play Would You Rather
WATCH: Mario Batali And Action Bronson Make Pasta With Special Ingredient Weed Smoke
–
Have a tip we should know? tips@mediaite.com