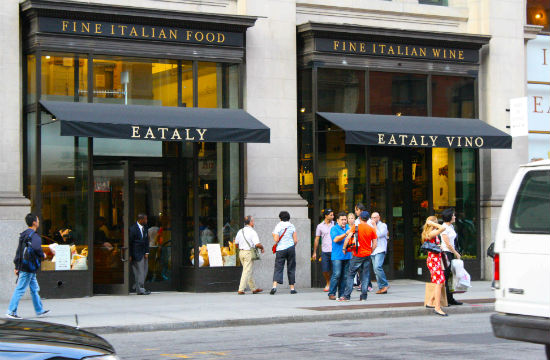 It's happening.
Yep, Mario Batali confirmed to the Los Angeles Times that the newest outpost of Eataly will open in L.A., in the outdoor mall Westfield Century City. It'll be about the same size as the New York and Chicago outposts (about 5,000 square feet) but will have lots more outdoor and rooftop seating (because, you know, when in L.A.).
In a statement, the B&B Hospitality Group said that the newest Eataly will be as unique to L.A. as each of the outposts are to their city (does that mean no Nutella bar for Eataly L.A.?). Said in the statement, "We do partner up with local communities and organizations too, so undoubtedly, Eataly L.A. will be unique in its essence!"
And as for where Eataly will open next?
The Eataly concept was founded in Italy in 2007 by Oscar Farinetti. The first was in Turin, the home of Slow Food International, and it has spread not only to other cities in Italy, but also Japan, Dubai, Istanbul and the U.S., with more stores coming soon in Moscow, Sao Paolo and one more American city yet to be named.
One last American city — Miami? San Francisco? Austin? New York again? Let the guessing games begin.
RELATED: Mario Batali To Open Babbo Pizzeria in Boston, Everybody Freak Out
New York's Eataly Replaces Wine Store with Nutella Bar, Proving Dreams Do Come True
So Wait, Is There Going to Be Another Eataly in New York? Maybe? Who Knows?
Have a tip we should know? tips@mediaite.com