Treme: Mario Carbone And Rich Torrisi Attempt To Woo Chef Janette From David Chang's Clutches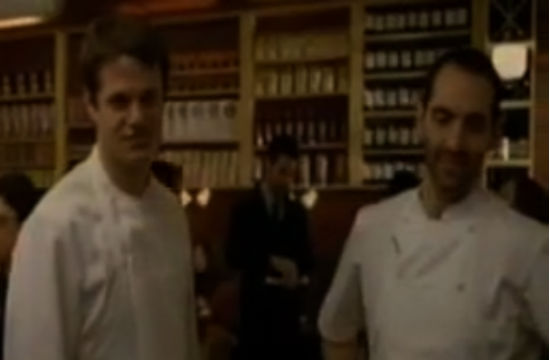 The identity of the mysterious creepy (?) perv (?) stalking (?) Chef Janette Desautel (Kim Dickens) in last week's Season Premiere of Treme was revealed last night, as he occupied a spot at the counter of the (fictional) David Chang restaurant Lucky Peach, yet again, to watch her work.
It turns out he's a restaurateur named Tim Feeny who — quelle surprise — is attempting to poach Janette off David Chang's service in order to open a restaurant with her back home in New Orleans. Of course, this isn't Janette's first rodeo, and she's been courted by restaurateurs before. Check out the clip below to see her answer.
But, the squeaky wheel gets the grease, as they say (really? Who says that?), and Tim tries to woo her by bringing her to Torrisi's, 1, to eat, and 2, to meet Mario Carbone and Rich Torrisi. He hopes to inspire her with the idea of opening a "do you" resto in NOLA. Check out Carbone and Torrisi's acting skills at work below.
Argh! What's a confused chef to do? Seek out the fatherly advice of David Chang, natch! Of course, Chang's version of "fatherly" involves mulling an idea over with whiskey till you're hoarse and ultimately whipping yourself into an irredeemable existential crisis. But he's a good listener! Bonus in the clip below: Janette kisses his face and he gets all sheepish. How much do we love Actor David Chang? (Not that he's acting. We believe it was Alan Richman who once pointed out that it was impossible to set Chang up on a date.)
Have a tip we should know? tips@mediaite.com