To kick off summer, David Chang-backed meal delivery service Maple has teamed up with Mark Ladner, the executive chef of Del Posto to create a menu. Over the next two weeks, the company will be rolling out a new "surprise" menu item each day, and the full lunch menu will be available on Thursday and Friday. The dinner menu will be available next week and will follow the same structure.
Today's dish is a whole wheat pasta salad, and the menu focuses on Italian dishes suited for Spring and Summer, similar to what you might find at Del Posto. Ladner worked with Michael Wilson to create the menu. Wilson is the former editor-in-chief of La Cucina Italiana and the two have been working together on the Del Posto Cookbook for nearly two years.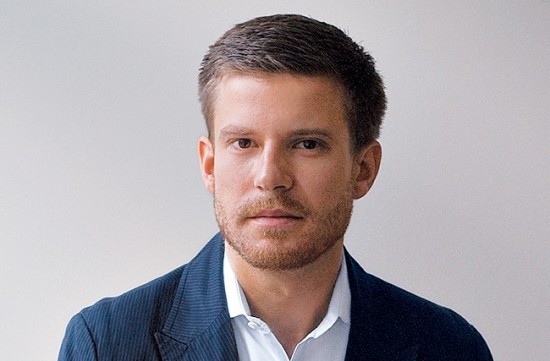 So, basically, it's Del Posto at Maple Prices. What could be better?
We caught up with Ladner to learn about how he prepared for the collaboration, and of course we had some questions of our own too:
TB: Why did you choose to do this partnership with Maple?
ML: David Chang asked me to join Maple's Culinary Board in the early stages of Maple. Since late spring/early summer menus are well-suited for my style of Italian cooking, this relationship opened up a great opportunity for us to collaborate. Maple focuses on mindful and healthful cuisine, and good Italian food should always feel soulful and nourishing.
TB: Was it difficult to come up with recipes that are optimized for delivery? How do you plan the menu for something like this differently than you would for a restaurant?
ML: We took great guidance the Maple team. They really know their business and their customers. But honestly, we didn't feel like we had to change the spirit of our food, we just made a few smart choices when it came to ingredients that were suitable for delivery.
TB: How did you incorporate recipes from your book into your Maple menu?
ML: I worked with Michael Wilson, former Editor in Chief of La Cucina Italiana, to develop menus for Maple, as we've been working on The Del Posto Cookbook together for almost two years. We've put great effort into creating recipes for home cooks that articulate every detail of incorporating traditional Italian techniques into fine dining-style dishes. When creating meals for Maple, we looked to those same Italian building block techniques, ingredients and flavor combinations that inspired our book, and worked them into casual, creative menu items.
TB: What is your favorite thing to make at home?
ML: My favorite dish to make a home is pasta and one pot chicken. Oh, and always tiramisu for dessert.
TB: Who are your favorite chefs?
ML: Italian grandmothers. And Marc Vetri, April Bloomfield and Paul Kahan
–
Have a tip we should know? tips@mediaite.com