9-Year-Old Scottish Food Blogger Refuses To Sell Out, Builds Kitchen in Africa Instead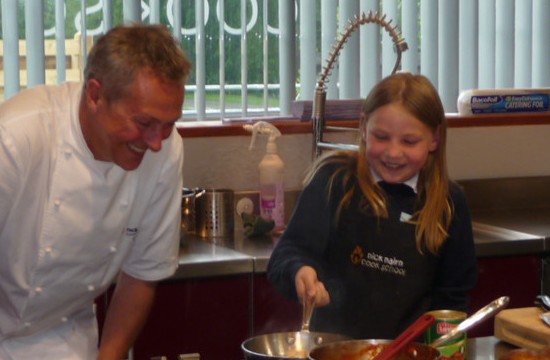 Last week, nine-year-old Scottish food blogger Martha Payne very publicly triumphed over her school council when they forbade her from photographing and rating the (occasionally sad) quality of her school lunches for her blog, NeverSeconds. Thanks to a roster of celebrity chefs, including Jamie Oliver and Nick Nairn, as well as a furious Internet (on Friday, she was the third biggest trending subject in the world on Twitter), the members of the Argyll and Bute Council not only backed down, but apologized for trying to censor her.
So you could shrug when The Guardian reported that Payne and her family were inevitably flooded with all sorts of offers to capitalize off her fame — television appearances, book deals, Hollywood films (hello, Wes Anderson! This story has you written all over it) — but Martha has only agreed to one. She and her classmates at Lochgilphead Primary School are teaming up with Nick Nairn to help the council design better meals for lunch.
"Martha will be back in school on Monday and no doubt writing her blog," said her father, David, appeasing the nearly 5 million visitors who have visited her blog since it started in April.
In addition, Payne eschewed the normal Famous Blog revenue streams (T-shirts and coffee mugs) and instead asked people to donate to Mary's Meals, an organization dedicated to feeding children in Africa. As of yesterday, NeverSeconds readers had raised over £75,000 — just under $120,000 — for the charity. The BBC reports that Mary's Meals will use the money to build a school kitchen in Malawi using her funds, but Payne refused to let them name it after her. Instead, the kitchen will be called "Friends of NeverSeconds" as a nod to all her supporters.
This girl is the best.
[h/t The Guardian]
Have a tip we should know? tips@mediaite.com