Martha Stewart Hung Out With Terry Richardson This Thanksgiving (And Doesn't Want You To Know It)
Martha Stewart Hung Out With Terry Richardson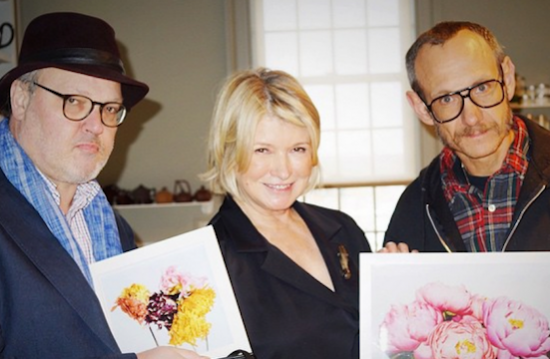 We were in too much of a turkey-induced coma this last weekend to realize that our domestic goddess, when she wasn't bashing Gwyneth Paltrow with pun-tastic pies, spent her Thanksgiving Day with noted alleged pervert Terry Richardson. But God forbid if you call her out on it.
The somewhat clueless Martha Stewart posted a photo of herself with Richardson and another photographer, Todd Eberle, at her Thanksgiving. The caption of the since-deleted Instagram: "Todd Eberle, left, Martha, and [sic] terry Richardson , right at my farm on Thanksgiving Each brought me an extraordinary flower photo!"
Because flower photos make up for everything.
The Daily Mail also made a note of who else was in attendance:
The trio were joined at the 153-acre Westchester farm by Kevin Sharkey, Senior Vice President and Executive Editorial Director of Martha's eponymous company Martha Stewart Living Omnimedia, Inc, who also shared an image of the group, saying: 'Todd, Martha, and Terry you couldn't ask for more amusing dinner partners.'
AMUSING, HUH.
Loads of Stewart's followers began posting comments against her choice of guests, and now the Instagram post is gone. Now the only photo that remains from the dinner, mentioning other "photographers" that were there, is one of a rando.
Clearly having her photo taken by Richardson wasn't enough to maybe make Stewart question some of her choices.
RELATED: In Response to Martha Stewart's 'Conscious Coupling' Pie Article, Gwyneth Paltrow Made a 'Jailbird' Cake
Martha Stewart's Wins Best Gwyneth Paltrow Dig With 'Conscious Coupling' Spread
Martha Stewart Poses for Terry Richardson, No D*cks Were Involved
Image via Jezebel
Have a tip we should know? tips@mediaite.com