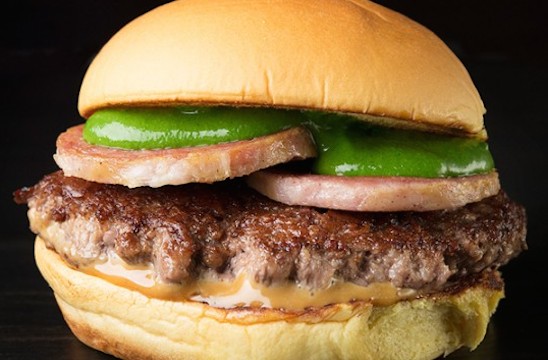 Because then the Madison Square Park Shake Shack, aka the Shake Shack that started them all, will be closed until mid-2015 for renovations. So really, we will take them all. And maybe one of everything off the menu. (Wait, you say there's more than one Shake Shack in New York?)
To prepare you for an approximate six month-mourning period while the original outpost is closed, Massimo Bottura made you a delightfully delicious burger available only on Monday, October 13th. (It's being billed as a Columbus Day event, too? Maybe not the best holiday to peg any celebration on, but continue.) From the press release:
Shake Shack's limited edition burger — The Emilia ($8.95), named after the Emilia-Romagna region of Italy —was masterfully crafted by Chef Bottura and Shake Shack culinary director Mark Rosati. It features a custom-blend Pat LaFrieda beef patty ground with parmigiano reggiano, topped with cotechino sausage, salsa verde and Villa Manodori balsamic mayonnaise made with Chef Bottura's Villa Manodori Artigianale balsamic vinegar from Trebbiano grapes grown in Italy. Buon appetito!
Bottura will also be signing copies of his new cookbook, Never Trust a Skinny Italian Chef, the same day. There will only be 1,000 Emilia burgers made that day, so get in line now. No really, get in line now.
RELATED: Shake Shack Celebrates 10 Years of Shacking with Celebrity Chef Burgers
"Shake Shack Pays Employees a Living Wage, Offers Full Benefits, Stays in Business
Danny Meyer to Close Union Square Cafe Due to Exploding Rent
Image via Shake Shack
Have a tip we should know? tips@mediaite.com