Toddlers in Toques: In Search of the Culinary Stage Parent at the MasterChef Junior Auditions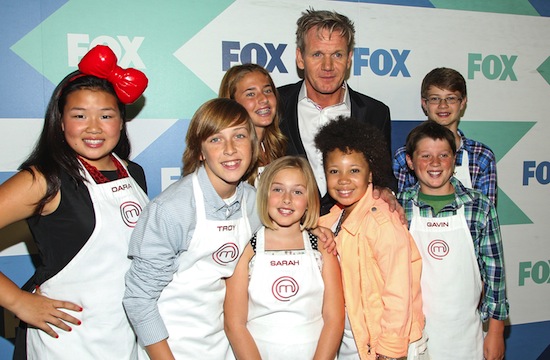 "If you think it's bad in the pageant business or the grade school sporting events like Little League, you should see some of these moms and dads trying to make their kid famous on the food circuit. It's disgusting and deplorable…"
Those were Andrew Zimmern's words about last year's sleeper hit MasterChef Junior when news of its casting session for 8- to 13-year-old chefs first broke. The tirade aired on the January 25th, 2013 edition of his podcast Go Fork Yourself, and touched off a text-storm from angry parents of Season 1's would-be competitors.
The show functions essentially the same way as its adult counterpart: kids ages 8-13 cook an "audition" dish for Joe Bastianich, Gordon Ramsay, and Graham Elliot; two positive votes earns them an apron into the MasterChef kitchen; and then the children compete in skills tests and elimination challenges, just like in the adult MasterChef, until two contestants remain to cook a three-course meal for the judges in the finale. The winner receives $100,000.
MasterChef Junior aired the same year that Rachael vs. Guy: Celebrity Cook-Off had its first (non-celebrity) kids' version, too. Michelle Obama began holding annual "Kids' State Dinners" in 2012 for children who created healthy recipes for the Let's Move campaign. A space had been forming for kids in food, and I was convinced that if I got myself onto the competitive food circuit, I'd find Toddlers in Tiaras parenting as egregious as it was on the pageant shows.
So, I spent three hours of a snowy January morning observing three rounds of MasterChef Junior Season 2 hopefuls go from green room to skills test to casting director interviews, enlisting last year's winner Alexander Weiss, 13, and third-place finalist "Hawaiian" Jack Hoffman, 11, for moral support.
In search for more clues about the elusive "competition circuit," I asked each of the former contestants if they had ever done a competition before MasterChef Junior.
"I wasn't on any other competitions," said Jack. "But I had a big passion for [cooking] and I wanted to be on, like, competitions and TV shows and stuff, and I actually set a goal for myself to be on TV cooking by the age of 13. And I set that when I was like 9. And now I'm 11, and I was on TV when I was 10."
Alex, too, was a first-timer in the ways of culinary game shows, but he'd honed his competitive chops in other ways. "I was on the debate team in my school, and we had to debate topics like, whether GMO foods should be banned in the US, and different subjects that were really challenging, so that's where I kind of got my competitiveness from."
He hoped to face off against Season 4 adult winner Luca Manfé on the MasterChef Cruise later this year.
Articulate, focused, and with the self-possession of a tiny adult, it was hard to imagine parents imposing their vicarious TV dreams on Alex or Jack. But what about the others? I asked a casting associate on set whether most of the auditioners were stage kids.
"I would say most all the kids — this is really their passion. They're brilliant cooks. It's not staged or produced or anything like that. They really are very talented kids. Most all the kids, this is kind of their first 'thing,' as far as TV show competitions. We're not really actively looking for people who have been on other shows."
Incidentally, I asked Joe Bastianich the same question during the 2013 New York Wine and Food Festival in October, and he said, "They were all a bunch of stage kids, you know, some of them were stage kids. Some kids are talented, and their parents will drag them out to any casting call. But some of them were real foodies, who love food. Especially a lot of the New York kids — the East Side kids were like, real foodies, really sophisticated, really good cooks."
Alexander was skeptical of the stage kid angle on his season. "I don't think there were any real stage kids," he said. "A lot of kids had on their resume that they had done other acting things. But that doesn't necessarily mean that they're actors, or that they're just there for TV. It's just that they're comfortable with TV. They're comfortable with having a camera right in your face."
Surprisingly (or maybe not, but it was heartening to hear, anyway), neither Jack nor Alexander seemed too focused on continuing to do TV. They both wanted, ultimately, to get into the restaurant game. (Leave it to the New York kids.)
"That's the problem with being on Food Network," Alexander said. "A lot of these chefs have had restaurants, and then they transfer to the Food Network, and when you're in TV, it's only TV, you know? You forget about your restaurant. I want to make my restaurant the best that it could be. Hopefully start in New York, and then move to another restaurant in LA, and then spread out, and go from there, rather than being on TV."
Jack showed a little more interest, but mostly to feed his passion for teaching.
"I'd definitely like to have my own TV show where I teach people to cook, because I'm also very passionate about teaching people how to cook," he told me. "And then I'd like to be in some competitions, even if it's not televised, so like, the awards, and I'd also like my own restaurant."
Back in the audition holding room, the kids were waiting in anticipation of a skills test in which they'd have to chop a vegetable, measure water, and cook an egg under the watchful eyes of medics and judges. Alexander had his setting-them-at-ease game down. Each time he walked into the holding room, I watched a fresh batch of kids go wide-eyed, slack-jawed, and breathlessly gasp, "Oh my god," before whispering to their parents, "That's Alex!"
One swooshy Bieber-haired little boy, who honestly looked more like a snowboarding bro in the making than an aspiring cheftestant, made eye contact with me on one of these occasions while absently asking to no one in particular, "Is that…?" I nodded yes, it was Alexander, and moved in to eavesdrop on their exchange as Alex's dad motioned for him to go talk to the kid.
"Oh my god." The kid blurted right to Alexander's face just before asking in total dread, "Are you re-auditioning…?"
But the real treat was observing Alex's ice-breaking mastery.
 "So how old are you?"
"It's not as scary as it looks. I know it's intimidating."
"Sure! We can take a picture."
"Are you nervous?"
"Is that your brother?"
"Don't be nervous, it's not that scary."
"What kind of egg are you going to do? Have you thought?"
He had some variation on the same list of questions prepared for each kid he spoke to and did his best to maintain a casual air while the auditioners were clearly losing their minds over being in the same room with him.
I sat with Alexander's parents, Susie Kerr and Mark Weiss, for the majority of the time I spent at the auditions, and, the longer I sat with them, the clearer it became to me why I was perhaps striking out on finding freaky stage parents who were overtly pushing their kids around.
Susie and Mark were like…legitimately cool adults. They both had interesting, creative careers of their own (she as a decorator; he, a photographer), and they were presumably pretty successful, if they were raising a couple of kids on the Upper East Side.
Basically, I figured, if you have enough money to raise kids in New York, you were also successful enough in your own ventures to perhaps dull the instinct to live vicariously through your child.
I spoke with Alex's dad about that infamous Zimmern rant.
 "He was so off," Mr. Weiss contended. "And he spoke with such conviction. It was ridiculous. We [the parents of the contestants] were all texting each other when that came out."
Parents aren't allowed in the room during the skills test, and when they are, they're strongly discouraged from interjecting, the casting associate assured me. And while the parents of contestants are ultimately mic'd and on-camera during the challenges, they watch their children compete through a feed. They're never interviewed or given much reaction-shot time, unlike the Rachael vs. Guy: Kids Cook-Off model.
"As far as the cooking skills, it's honestly mind-blowing how talented these children are," the casting associate maintained. "I haven't come across any child that is doing this with their parents pushing them to cook. They genuinely love it."
 I did briefly speak with one parent who had driven from Massachusetts for her twelve-year-old daughter, Julia, to attend the auditions. Julia had previously come in first place at a local soup cook-off she had entered with two of her friends. (The winning recipe incidentally, was kale soup "with a twist.")
"She has her own food blog — 'Julia the Child!'" the mom preened. "So she had watched the show last season, and she was really interested. She thought it would be a great experience, even just to try out, just to put herself out there and try to take her cooking skills to the next level. And we thought the show handled the kids really well, so we said, why not?"
This was Julia's first televised competition, but she had taken other teen cooking classes before.
 "The whole point of her blog was to encourage kids to try new things and get them out of their rut of like, chicken nuggets and pizza and macaroni and cheese," her mom explained.
Other than both being extremely well-groomed, and my own uneasy feelings about a 12-year-old with a cheekily titled food blog, both seemed totally, well, normal.
Earlier in the day, Alex told me TV was really just a means to a goal.
"I never thought of doing TV," he said. "I just thought I would cook and have my own restaurant one day, but the culinary industry is really hard."
"I've been watching Gordon Ramsay since I was eight. So it was a major opportunity for me to be able to cook for him, and take advice from him. Show myself a little bit, so that I can have a restaurant when I get older, and the title will help me do that, as well as the $100,000. I can save it for the restaurant or for culinary school. But I never really had any plans of being on TV."
Zimmern, my own morbid fascination with grotesque parenting, and the myth of the culinary stage mom: debunked.
Have a tip we should know? tips@mediaite.com