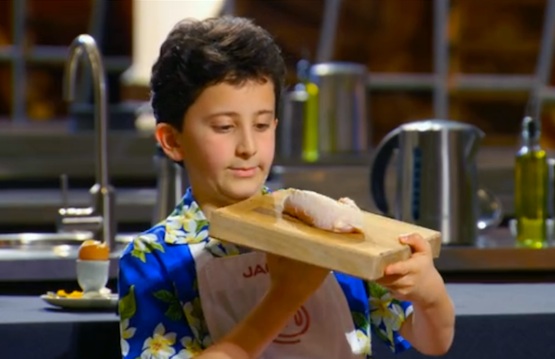 Our time together, with the kiddos of MasterChef Junior, is drawing to a near. Sarah will forever live on in our hearts as we watch Alexander, Dara, Jack, and Troy take on the semifinals like the champs they already are.
Well, this episode includes live chickens. And eggs. We too would be worried that we'd be catching, killing, and de-feathering a chicken, Troy. But the egg does come first in the age-old question, chicken or the egg — or should we say, a soft boiled egg. To be fair, this is the perfect challenge for MasterChef Junior. Speaking as a 26-year old who only just figured out how to scramble eggs, and can't do much else with them, eggs are notoriously tough to master at any age. (That's what we're telling ourselves, anyways.) And chicken isn't always as easy to cook either, as we find out later in the show. So to have a seemingly easy dish that's really quite difficult to do well? Perfect for our pint-size Master Chefs.
1. All the kids seem super nervous for this soft boiled egg challenge (rightfully so), but Jack is "praying to the egg gods." Or to the gods of Hawaiian shirt wonders? We don't know. But he says he's calm and seriously focused on what he's doing, so we'll take his word.
2. Graham Elliot is HILAR when testing out Jack's "$100,000 egg." No pressure, or anything. "Do you feel lucky?" "Yes." (With menace in his eyes) "DO YA?" We hope to one day be interrogated by Elliot, because we're fairly certain we'd burst out laughing. But it's overcooked!
3. So it's Troy's egg that wins the challenge! Hard to believe he was the only one of all four contestants with even close to a softboiled egg. It's cool guys, we f*** up our softboiled eggs all the time.
4. Chicken livers to Alexander, who's learning a cold hard truth — not everyone is your friend in a competition. "I'm gonna kill you!" HA. Later, Gordon Ramsay decides to delightfully inform him that he has "a target on his back" because of his talent, while he's trying to whip up some mother*cking chicken livers. NOT THE TIME, RAMSAY. Poor guy, he's frazzled.
5. To be fair, Ramsay running up and down the pantry with Jack was super cute. "Cooking with you is like running a marathon!" he says to Jack mid-jog. And then later — "Have you been drinking?" We have to say, it is weirdly satisfying to see Ramsay so invested in these kids. Sure, it's a competition; sure, it's a TV show that's earning him more money on top of the buckets of money he already has. But to us, perhaps the naive viewer, all three of the judges seem truly excited and invested in these competitors. Maybe just proving that they have souls outside of the flames of the real MasterChef, but whatever.
6. Oh god, heartbreak — Troy's chicken isn't cooked through. As Ramsay explains, a chicken thigh takes much more time to cook than a chicken breast. Ramsay is disappointed, everyone's disappointed. Learning experience, check. Tears, check. Agh, children crying is the WORST. (It doesn't help that we are softies and cry at TV commercials, so this really wasn't stopping the tears from flowing.)
7. More wise words from Ramsay, as he tries Alexander's chicken liver pate on garlic crostini: "Don't cut yourself off from learning something new." Wise words even to this 20-something adult who avoids most livers.
8. Again, poor Troy. It's a tight competition, all right — but it's looking almost certain he's going home, and he knows it. When the judges announce Alexander's spot in the finale, he sheds a tear. Vulture said it already, but it's true: he's an old soul. An adorably sweet old soul (who still whispers things like "I'm going to kill you!" to his competitors). Yes Ramsay, he is "Julia Child's lost grandson."
9. Dara is in, and Jack and Troy are out. Agh, more tears from Jack! Joe Bastianich's favorite little old man is going home. "I've become less shy," he says in the voiceover, though we can hardly even imagine him being shy in the first place. Is Jack the under-the-rug heart stealer of all the contestants? Sneakily, stealthily worming his way into our hearts — even before Sofia, Jayden, Sarah, and Dara? It looks like it. We still love you too, Troy.
10. From the teaser for next week's finale: OMG, chef's jackets for Dara and Alexander! OVARIES EXPLODING BRB. See you next week for the finale!
RELATED:
Adorably Diabolical MasterChef Junior's Sarah Says She's Friends with Nemesis
WATCH: S*** Gets Real in the Restaurant Takeover on MasterChef Junior
WATCH: MasterChef Junior Becomes the Sarah, Dara, and Kaylen Show (Finally)
Have a tip we should know? tips@mediaite.com