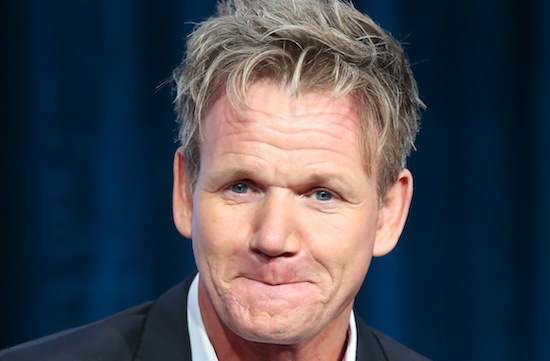 MasterChef Junior's first season is over and done, but we're still reading up on our favorite cooking reality show. (Sorry, Top Chef — we still love you, but hello, adorable kids.) And we couldn't help but find this tidbit from Huffington Post's interview with the executive producer of MasterChef and MasterChef Junior Robin Ashbrook to be kind of hilarious and telling.
Ashbrook tells Huffington Post (before the finale aired) that before the auditions, the three MasterChef judges, Gordon Ramsay, Graham Elliot, and Joe Bastianich, totally thought the kids' food was going to be terrible. Because would you expect a 12-year old to be able to cook?
On the judges' raised expectations:
"I remember on day one we did the audition and the judges were like, 'How are we going to be? This food is not going to be as good as the adults' so how do we approach it?' They just assumed the food would be fish fingers or beans on toast. Once some of those first plates got put in front of them on the audition episodes, the judges would have the same reaction that the audience has: 'Oh s–t, can they really do this?'"
Boy, were they wrong.
Other things we didn't know about the filming of MasterChef Junior: chaperones and parents were always on set, kids still had their classes as scheduled, and each of the rows had a medic to make sure the pint-sized chefs didn't accidentally cut a finger off or something. Oh, and Jack's Hawaiian shirts and Dara's red bow headbands were totally real.
RELATED:
WATCH: And the Winner of MasterChef Junior Is …
Tonight in Food TV: The MasterChef Junior Finale
WATCH: Chicken, Eggs, and Tears on MasterChef Junior
Have a tip we should know? tips@mediaite.com