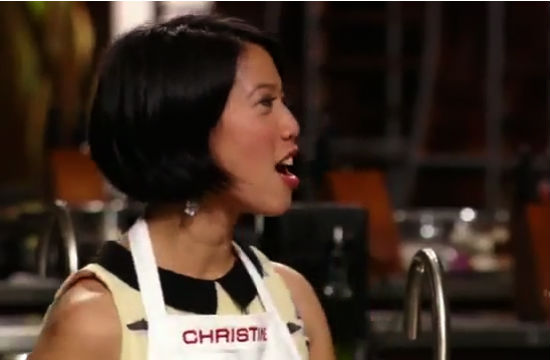 MasterChef's semi-final aired last night, and its final three contestants Josh, Christine, and Becky seemed pretty evenly matched. Their Mystery Box Challenge revealed blank copies of their would-be MasterChef cookbooks, with the challenge of cooking whatever they liked, as long as it was reflective of them as chefs and worthy of a page in their books.
Josh impressed with curried chicken, while Christine served up a signature homey noodle dish, which the judges also loved. Mid-prep for Becky's fish, Gordon came over and considered the fillets she had cut too small for an entree, so she freaked and made a fish soup at the last minute. Unfortunately, dropping her pan-fried fish into a hot soup overcooked it, and her dish floundered (first and only food pun, we promise).
As the winner, Christine got to choose which protein she'd be working with in the Elimination Challenge, which was leg-themed. She opted for chicken legs, while Josh, the runner up, chose leg of lamb. Thus, Becky the Loser was stuck with frog legs, which she had neither cooked before, nor ever tasted.
Josh fried his lamb, which was all kinds of weird, but the judges actually loved it. Christine made classy fried chicken, but over-creamed her creamed kale. And, finally, Becky served the toss-up dish: pan-fried frogs' legs. We thought she might actually fare alright with them, since she cooks with a French sensibility, but check out the clip below to see the judges' reactions to her dish and the reveal of the final two.
Have a tip we should know? [email protected]