UPDATE: MasterChef Producers Release A Statement Responding To Sexual Harassment Claims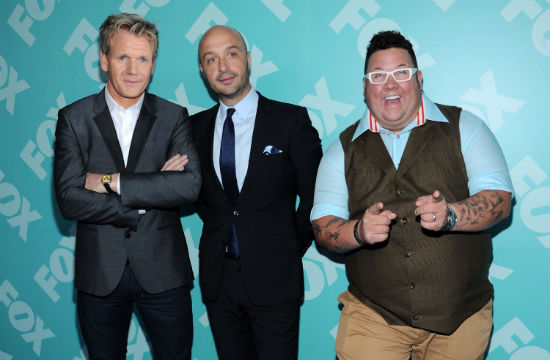 Gordon Ramsay, Graham Elliot, and Joe Bastianich are fielding serious-sounding, but, of course, evidence-scanty sexual harassment claims from a few female MasterChef Season 4 contestants who were eliminated in early rounds of competition. It gets sticky, since their Fox contracts are iron-clad, and prevent them from giving any interviews without the network's permission, plus they aren't allowed to talk about what goes on behind the scenes, or the way they're treated.
Eliminated during the initial audition round (you might remember her mango mojito upside-down cake), Marie Porter wrote a blog post documenting her experiences:
"[T]wo of my MasterChef friends have had suicidal thoughts since coming back, as a result of the treatment out there. One friend was sexually harassed by the judges to the point that she had her lawyers get her edited out of the show completely. (As part of it, one of the judges told her that the only way he'd have an appreciation for her is if he was looking at her naked body!). Two of my friends were physically assaulted – one by production, one by a judge.

Of the incidents I mention, there is no crossover – these are all unique individuals. They're not alone, either – I know of a few other women who were treated in a sexist, degrading manner by the judges… and all of these incidents that I mention are just the ones that I KNOW of. Many have been dealing with depression as a result of the experience."
Carrie Stevens (another contestant eliminated early, and — bonus! — also a Playboy Playmate) claimed she didn't want to get involved, but left a comment on the story, writing:
"Everything Marie says is absolute truth. While I do not want to be a part of this snafu either…I have moved on from my bad MC experience….it's not fair to let Marie take the fall for the actions of unethical reality TV, and the abuse that contestants endure. Marie is reporting facts. I witnessed it. These shows need to start being honest to potential contestants about what they are getting into, and the 'personalities' or 'judges' on these shows need to get over themselves, and have some emapthy for the people they are ridiculing. They laugh at the contestants that make their shows a success and then they laugh all the way to the bank. Don't blame 'Marie the Messenger'."
Sure, because that's what not getting involved looks like.
Again, (are we stressing this enough?), there's basically no way to confirm any of this, because Fox is real good at legally binding the bejeezus out of people, but if it is true, color us majorly skeeved out. Somehow, though, we're feel like there might be some middle-aged Ramsay-philes somewhere who are undeterred by his alleged perviness…
UPDATE: We received this statement from Shine America, the production company behind MasterChef, addressing the sexual harassment claims:
"Contestants on MASTERCHEF are treated with the utmost respect and professionalism and we care tremendously about their well being. The recent comments posted about the treatment of contestants are completely without merit."
[International Design Times h/t Jezebel]
RELATED: Joe Bastianich To Masterchef-testant: 'The Only Thing Worse Than A Cook Who Can't Boil Is A Narcissist In Denial'
WATCH: Joe Bastianich Made An Army Veteran Cry, With Langoustines
WATCH: Every Whack-Job Montage From Last Night's MasterChef Auditions
Have a tip we should know? tips@mediaite.com