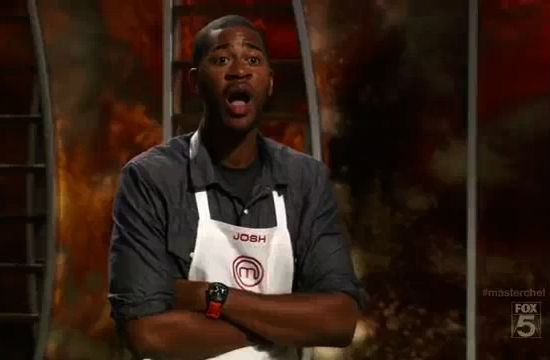 We at The Braiser have a handprint collectively marring our mugs from all the FACEPALMING we did last night during MasterChef. We liked David Martinez at the beginning of the season. We really did, and we rooted for him, even as his competitors insisted what a knucklehead he was week in and week out. Last night, we were finally convinced.
David won the elimination challenge advantage after pulling off the best prawn dish during the Mystery Box Challenge. First, he was secretively ushered back into the pantry to choose the key ingredient which all the remaining contestants would have to work with for the elimination. The twist? He had to choose between bacon, corn, or beets to be used in a dessert. Now, this isn't totally devastating. Beet baked goods? Delish. And if someone can cleverly incorporate bacon into a chocolate-based dessert, we wouldn't hesitate to immediately put a ring on it. Corn? Meh, but cornbread is easy enough to dress up. What does David pick? The boring option. Alright, fine. Bring on the boring as hell panna cottas.
So, as the next part of his advantage, the judges themselves show him three desserts using corn to inspire him, while the rest of the contestants try to figure out how to sweeten a savory star ingredient. David's eyes light up when Joe Bastianich shows him a corn rice pudding, remembering his mom's awesome recipe, and thus he takes off into the pantry to shop for ingredients. Watch the clip below to see the subsequent horror unfold.
HE FORGETS RICE. The man opts to make corn rice pudding and then FORGETS to grab rice! After all his advantages! So, David putters around the kitchen begging and pleading for a kind soul to spot him some, and eventually Becky does. So he's able to make his dessert as initially conceptualized. Then this happens.
SERIOUSLY?! Seriously. And somehow David STILL didn't go home last night. Felix totally bombed on her "novelty poops"-shaped profiteroles (Graham Elliot's quote, not ours), which somehow made her a worse home-cook that totally and completely boneheaded David Martinez. We're outraged. Felix was a favorite to win it, and Gordon himself admitted that she was in his dream top three. It's with a heavy, outraged heart that we'll return to MasterChef next week.
What do you think of David's performance last night?
Have a tip we should know? tips@mediaite.com