Trial for Thief of Guy Fieri's Lamborghini Begins, Sounds Like Bad Prison Break Episode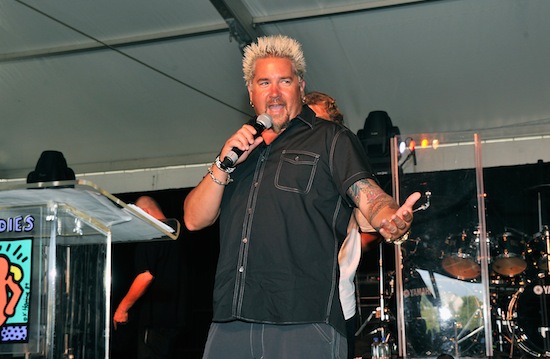 It's your typical tale of love, greed, money, crime, and Guy Fieri — all things that go together, naturally.
The trial for the Californian teenager Max Wade has begun, who has been charged with stealing Fieri's pimped-out yellow Lamborghini from a San Francisco dealership in 2011 — and for shooting at his (we suppose unrequited) love and her boyfriend last year. As the San Francisco Gate and the Associated Press are painting the story, Wade wanted the bodacious babe to go along with a sick ride. Said Yvette Martinez, county prosecutor on the case, "Max Wade already had the flashy yellow Lamborghini, but he wanted to have the beautiful blonde to go with it, and he was willing to kill to get it." (Wade's lawyers filed to move the trial to a different venue, saying he couldn't have a fair trial thanks to the surrounding press, but the trial goes on in Marin county.)
According to the reports, there was no sign of the Lamborghini after it had been stolen from the British Motors dealership on March 8, 2011, when a burglar (allegedly Wade) rappeled through the window to drive off in the car. That changed last April, when police began to investigate Wade in the drive-by shooting that targeted the girl he allegedly had a thing for, and her boyfriend. The police followed Wade to a storage facility across San Francisco Bay, where they found Fieri's stolen car. (Oh, and climbing gear and some guns and rifles, because why not keep all the incriminating evidence against you in one place?) Among the incriminating evidence, say local reports: a message found on Wade's computer, saying "It doesn't get any better than boosting Lamborghinis and getting chicks at 17."
Wade now stands trial on charges of attempted murder, commercial burglary, auto theft, and being in possession of a stolen vehicle as an adult, and could face 30 years in prison. No Fieri sightings at the trial (sad), but from the sound of it, Wade is the bigger Internet celebrity here, complete with fans risking their lives to help him escape. From the SF Gate (because we just can't make this shit up):
"Looming over the trial will be the fact that the young, handsome defendant has become an Internet sensation, complete with fan club. Some of his supporters even tried to spring him from juvenile hall on his 18th birthday last year. The middle-of-the-night escape attempt prompted sheriff's officials to tighten security around the case and chain Wade to his chair during the trial."
When will Law & Order tackle this story?
[SF Gate]
RELATED:
Guy Fieri's Lamborghini Thief Claims He Cannot Get Fair Trial Due To Notorious Reputation As An Idiot
Guy Fieri Lambo Update: Prosecutors Call For More Charges Against Teen Thief
Guy Fieri's Lamborghini Thief's Friends Try To Break Him Out Of Juvy Jail
Have a tip we should know? [email protected]