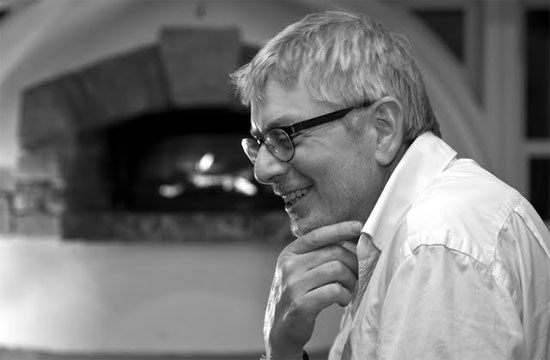 You, in the cubicle, reading this site about celebrity chefs. We know you've long dreamed of standing up, grabbing your goldfish and your 'hang in there' poster and saying "To hell with this corporate life! I'm giving up this keyboard and ever-worsening posture, I'm going to culinary school to follow my passions! I'm gonna be a chef!" Normally we (and the rest of the food world) would tell you that this is a horrible idea, but sometimes, with enough tenacity and maybe a touch of delusion-fueled drive, people actually succeed.
This is the true story of Ken Forkish, who owns Ken's Artisan Bakery and Ken's Artisan Pizza in Portland, OR, and has an awesome last name for anyone in the food world. He's now nominated for the James Beard Outstanding Pastry Chef Award this year, which, if he won, would put him in league with Christina "Sugar Plum Fairy" Tosi and Johnny "Lord Licorice" Iuzzini. Before this baker, and author of Flour Water Salt Yeast , was making bread, he worked as a tech professional for nearly two decades.
In an interview with the James Beard Foundation, he elaborated:
I'd always wanted to get out of the corporate world. When I lived and worked in Europe in the late 1980s, a lot of light bulbs turned on, ultimately leading me to want to be a real boulanger in America. The transition from the old career was a little messy, but it all worked out well in the end.
After apprenticeships in France and Italy, he began baking in Portland — which, honestly, does not sound that different from the programmer's life at all:
 My bakery is open from 7:00 A.M. to 6:00 P.M. every day. We might do 500 transactions at the cash register on a busy day, with up to five counter staff working side-by-side at a time, slinging espresso drinks and taking orders of breads, pastries, and lunch, which is big for us. The bakery also has production staff working around the clock, whereas Ken's Artisan Pizza is a dinner-only restaurant open for just five hours each day (we need all day to do prep for an average of 175 covers per night), and it has a bar and table service. Any challenges are tempered by great, loyal staff with a lot of tenure at each location. I don't want that phone call at 2:00 A.M.!
In other words: it sounds like every day is a Facebook hackathon.
Have a tip we should know? [email protected]