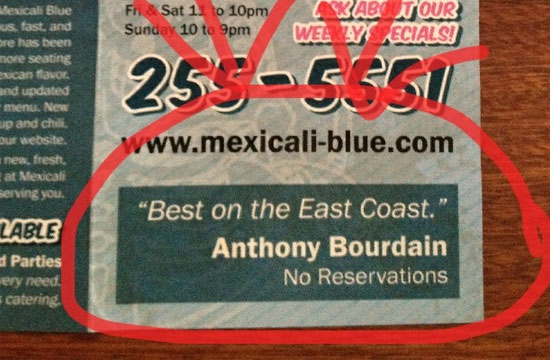 Mexicali Blue in New Paltz, NY should have no problem attracting a fair amount of customers. It's close to the Culinary Institute of America and SUNY New Paltz (and, ergo, a fair amount of young hipsters), it's got four stars from Yelp reviewers, and it serves Mexican-style street food, which is perfect for drunk young hipsters.
So why did they say that Anthony Bourdain called their tacos "the best on the East Coast"? Because he says he totally didn't.
"No. They lie," he tweeted to a fan who, bewildered, sent him a picture of the restaurant's menu with his endorsement splashed across the front.
"We shot [part of the 2010 Hudson Valley episode] there," he continued, which explains a photo of him on their website. "It did not make the show. 'Best in East?' Uh, no."
Though Bourdain isn't a hidebound zealot about authenticity, maybe the reason he and Zero Point Zero cut it was for the eyebrow-raising taco fusions like a "Teriyaki and Sesame marinated tuna, shredded cabbage, guacamole, wasabi aioli and lime in a blue corn tortilla. Or maybe, simply, the food wasn't that good to begin with.
But the owners remember Bourdain's visit differently. "He drank two six packs of beer here," said owner Sal Nicolosi in a phone interview (and Michael Ruhlman probably agrees that he drank a bit). "I don't know what he's saying now, but I heard it come out of his mouth, and we quoted him on the spot." He did not, however, remember whether Bourdain gave him permission to use that quote.
"We tell everyone the honest truth," Nicolosi continued, claiming that his customers are aware that the segment never made it on the show. "He came in, he stayed there for three hours, he had catfish tacos, and then he left; there's nothing more than we can say."
In any case, a large part of Mexicali Blue's clientele seem to be there because of Bourdain's maybe-endorsement, as seen by a  number of Yelp reviewers who gave the restaurant glowing reviews that drop his name:
"Believe the hype. The greatest prophet of our time, Anthony Bourdain, has personally sanctified this place as holy ground for fish tacos, and he ain't lying."
"Anthony Bourdain doesn't get things wrong. He just doesn't."
"If Anthony Bourdain approves it as "Best Taco on the East Coast", you are just obligated to go there."
"I was talked into this place by their commitment to fresh, local ingredients, cute façade, and the fact that Anthony Bourdain stopped by for a visit convinced me."
And the one doubter in the audience: "There is no way Anthony Bourdain endorses this place —that's what I kept thinking as I ate my dry, flavorless burrito."
So let's say that Bourdain was super drunk and the guys at Mexicali Blue decided to jump on an errant sentence — does that make their use of his words right? Do endorsements depend on the opinion of the person who gives it, or what's said in the moment? What should we think of Mexicali Blue? (And am I sounding too much like Carrie Bradshaw with these questions?)
At the very least, it shows that Bourdain, like it or not, has a deep and terrible power in his name that can hypnotize young foodies to go to a dark place where tacos are made with Cajun salmon and topped with chipotle pesto.
UPDATE: Bourdain responds: "Mexicali Blue has good stuff. But saying I called it the 'Best on the East Coast' was a tactical error on their part. Not so."
Have a tip we should know? tips@mediaite.com