'Chef Creole' Turned Down The Food Network To Hang Out With Dubious Friends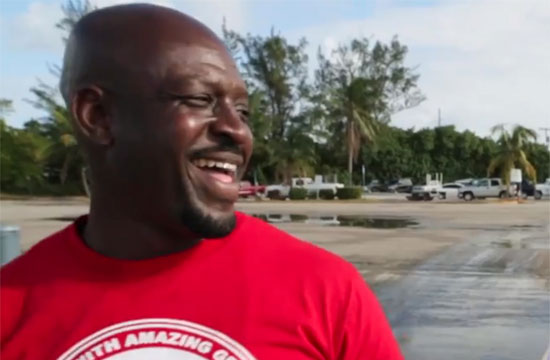 This Miami New-Times profile of Wilkinson Sejour, aka Chef Creole, reveals a surprising amount about the Food Network's inner workings, and its hidden identity as a low-rent, no-fun, friend-stealing corporate entity. The chef (seen here with Eddie Huang on Fresh Off The Boat) not only happens to be a cooking show host and soul food magnate with a compelling rags-to-riches story, he also once received an invitation to get even more riches with his own show on the Food Network.
Judging from his interview alone, he'd be a hilarious host — educational while keeping it real — but as Sejour explained, being a Food Network Star meant that he wouldn't be able to hang out with his, uh, friends. In addition to his empire, Sejour also has "a criminal record including marijuana possession, three counts of disorderly conduct, and one felony charge for child abuse [later dropped]." While he's cleaned up his act, and he spends more days working with celebrities than drug dealers, Sejour wasn't about to abandon his community for the Food Network:
Signing with a major network meant Sejour would have to watch what he said, how he acted, and whom he called friends. "If I'm at my friend's house and the feds walk in there and arrest everybody, then I got to explain what to who? Because you're some big network? Because my public relations is shitting bricks? Ah, fuck you. I ain't got time for that shit," he says.
Would that have been as bad as making his employees dress like slaves (or plotting to murder his wife)? Nevertheless, there was also the issue of the Food Network's negotiating tactics, which really seem kind of paltry (especially since he came with four episodes of a show):
He says he flew to New York, charmed the bosses, and received a 30-page contract. The network offered him $50,000 for a cookbook and $4,000 per episode. But they also wanted the rights to the four episodes Sejour had already filmed with Major Minerz — at no additional price.
So Sejour turned them down, but with a ballsy counteroffer: $80,000 for each episode. (Of course they said no.) Please tell us you peeled a tangerine as you did so, Sejour.
RELATED:
Happy Birthday, Cat Cora! 8 Celebrity Chef Arrests That Were Worse Than Your DUI
WATCH: Fresh Off The Boat's Season Finale Gives Us Eddie Huang, Babysitter
WATCH: Eddie Huang Finds The Best Barbecue In Miami…In The Parking Lot Of A Strip Club
Have a tip we should know? tips@mediaite.com