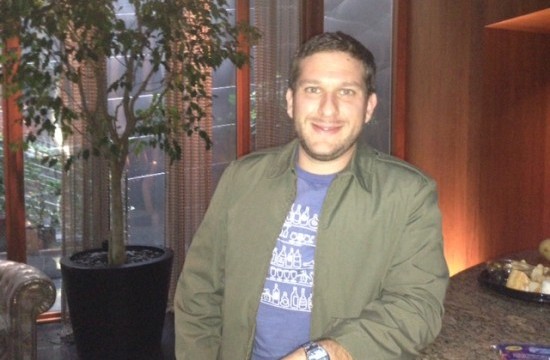 If Michael Ferraro were some normal mortal and not a chef, we'd cringe at the grueling schedule that he went through this past week: a dinner for Autism Speaks earlier in the week, a brunch with Paula Deen on Sunday, all the while running his two NYC restaurants, Delicatassen and macbar. (Maybe that's why he had his sous chef with him.) Oh, and making the rounds at the New York City Wine and Food Festival. But Ferraro did manage to take time out with us to talk about how he managed to make tasty yet healthy food for the Queen of Butter — while being greeted by half the staff of the Dream Hotel, who all coincidentally used to work for him. Small world.
It's been three days of running around and cooking for people. How's it been so far?
It's been good! It's been good [but] I acutally do enjoy them doing it in other places. I do a lot of other food festivals all over the world, and I think they're more fun when I do them somewhere else, because here we still have to run the restaurant. It's the prep, to the restaurant, to the event, back to the restaurant. So for us, we're always busy. When I'm away somewhere, I can really disconnect. I do the event and I'm totally engulfed in it.
So do you use this as an opportunity to hang out with people you don't normally get to see, or do you use it to reach out to your fans, meet them, hang out?
We do a tremendous amount of events. This week we had Autism Speaks!, which is a really big one, which I love doing every year. We did the hors d'oeuvres, and then we hosted a table downstairs, so a tremendous amount of prep for that. Basically, tables start at $15,000 there, so we were really excited and brought our A-game for that. And then [the Festival] later on in the week. So it's just been a really busy week. But we do this for a lot of different reasons: exposure, you know, and I like to see all the other chefs, and you basically get to hang out with friends and colleagues.
And it's also an important event for us. We're open seven days a week. We're literally busy every single day. So I think it's an important aspect, and we're able to do that — to get out, to do different food than we usually do, do differen things. You can't just be trapped in the restaurant all the time.
Right. Most people normally don't do brunches with Paula Deen.
Yeah!
How did that happen? We're curious.
They approach you on the events that they would like to invite you to. Last year and the year before, I did the Grand Tasting. Last year I did the sandwich competition, which was so much fun. I actually said to Lee [Schraeger], when I saw him mid-year, "That was so much fun! I'd love to do that again." So they came to me and were like, "We'd like you to do the brunch with Paula Deen." So I said — (shrugs) "Okay!"
It was different. It was a very sophisticated crowd, it was a formal setting — it was at Pier 60, which is a beautiful event space. Every year, I'd do the American Ballet Theater [event] there. It was set up really, really, well, but it was laidback.
[Paula's] a great host. She has very loyal fans. We stuck to the healthy aspect, which is what they asked for. A couple of other people went, and we saw a lot of pulled pork, chorizo —
"BUTTERRRR!"
I'm like, "Ummmmm — that doesn't seem too healthy." So we stuck to the healthy thing. We did Mediterranean egg white frittatas, with farro and turkey hash.
Did people gravitate towards the healthy stuff? Or did they think, "Man, this is the Paula Deen brunch; I'm going to go clog all of my arteries"?
No, I think we had the longest line going for the whole beginning of the event there. I think she's also brought another aspect with it, with all of her being diabetic now, and all of that coming out. Maybe it's opened up people's eyes a little bit, and now they're like: "You know, she was the Queen Of Butter, and now she got sick, and she's watching herself more, and whatever." So maybe there was a bit of a crowd there saying, "I'm going to go in and enjoy her style of food, and have it a little bit healthy." But I could tell as the crowd was coming in, people were walking around and a lot of people's eyes lit up [at our table] and were like, "Oh! You're the healthy table here." That doesn't mean we were the empty table. We were probably the most popular table there.
That is such a good thing to hear. It actually makes me feel better about humanity.
You know what? I'm happy about that because it makes people realize that healthy food doesn't suck. It's a little outside the black box. It's toasted farro with ground turkey and a bunch of herbs. They're like, "Wow! This is great!" And I'm like, "Yeah, thanks!" We didn't use any butter in anything.
Pretend that we live in a dystopian future with an oppresive government. They come to you and say, "Hey, Michael, we're going to take away your restaurant unless you compete in a cooking competition of your choice." What show would you want to be on, and how would you win?
It's funny. Four years ago, I did Chopped, and I didn't like the way it was set up. I didn't like the rules about the cooking. The only show I said I would ever do again is Iron Chef, and I did it in May. My episode aired. So as far as right now, what's out there — and I'm not saying I'm there yet — the only show that I'd consider to do, as far as competition, is Top Chef Masters. I do think about it sometimes. Iron Chef was a trip…It was really surreal doing it, and it was a great honor. I battled [Geoffrey] Zakarian, we didn't win, but we had a great time doing it.
I would do Iron Chef again, and the way that I would see myself winning is — I was happy with the ingredient I got. I got peaches, and we had a lot of fun with it. We really went outside the box. But I think it would be an ingredient with something that just struck home for me. One that I was suuuper comfortable with. If it were a pasta, or a certain type of cheese — my parents are from Italy, I grew up with this, I just lived it, ate it, breathed it, my whole life. An ingredient I would see myself cooking with if I were at home.
Back to Autism Speaks! really quickly: I've always found it interesting to see why chefs support certain charities. Were you approached to do Autism Speaks!, and why did you agree to do it?
For Autism Speaks! — it's really heartbreaking when you see and hear the details about autistic children. A good friend of mine, Franklin Becker [of Abe & Arthur's], his son is autistic. Me and Franklin go back. He actually started that event, that chef gala, five years ago. We've worked together through the years, we've stayed in touch, and I didn't know much about it. He opened my eyes to it. I think we started working together at the same company — we were at the Patina Group, like, seven years ago. And he was like, "I have an autistic child." and I didn't really know the details of it. As he started telling me, I realized, it's heartbreaking.
If you ask me, I think that chef gala is one of the most prestigious events, as a chef, to do in the country. There's fifty of the best chefs in the country. The front table is, like, Morimoto, Tom Colicchio, Rick Moonen, Mark Ladner, Jesse Shenkner — it's unbelievable who is there. So first off, it's just an honor to be asked to do that. They're actually really supportive of the cause. A year to date from the chef gala, it's been like, $7.2 million dollars or something? That's real money. And 100% goes right into that cause. The venue donates the space, the purveyors donate all the food. There was a performance there that had people tear up. My pastry chef was, like, weeping, as we were putting up the amuse bouche. 
Pastry chefs don't cry. You are lying to me, sir.
(Laughs) It's a beatiful event, it's a beautiful cause. I do a lot of charity work for pancreatic cancer. Eight years ago my mom was diagnosed with [it], and when that happened, we were all like, "Whoa. She's not going to make it past six months, like every other person." And between the surgeries, and the treatments, it's an ongoing battle. But it's really just remarkable where things have come. Every year I do a celebrity chef sandwich competition for a private company. I won last year, and I was able to give $10,000 for pancreatic cancer. At any other charity event, when they're like, "What's your charity?" I'm like, "That's it."
This year, I was in first place up until the last minute — and then Sam Talbot snuck in and won with like 10 hours to go. But he has a great charity also. But I think that chefs really understand the struggle. When it comes to being able to help out, any sort of charity is a soft spot for chefs.
They tend to be really empathetic — after they stop yelling at you.
Yeah! People are like, "Jeez, you're so nice outside of the kitchen!" And I go, "I'm a nice person!…I think." But business is business, and that's pretty much it. You're in the kitchen, it's a business, and it's a passion. So not only is it not, like, people who go to work and sit behind a desk, it's a passion. It's something we all love, and we all want to do, and then on top of that, it's our livelihood. So an extra fire gets built up for it. But it's just like everything: you see certain chefs working, and they're in the zone, and people look at them and go, "Ugh, this person looks strange when they're doing their thing." You've got a high in the kitchen. It's intense, and when you leave, it's just very mellow and things are back down to earth.
Have a tip we should know? tips@mediaite.com